Da Nang to resume more activities with proper precautions in place
October 13, 2021, 12:31 [GMT+7]
Da Nang People's Committee Chairman Le Trung Chinh on Tuesday afternoon directed the Office of the municipal People's Committee to complete a risk assessment on the COVID-19 situation in the city in line with the guidelines from Viet Nam's National Steering Committee for Prevention and Control on October 13 as well as give advice to the municipal government to resume more activities with proper precautions in place.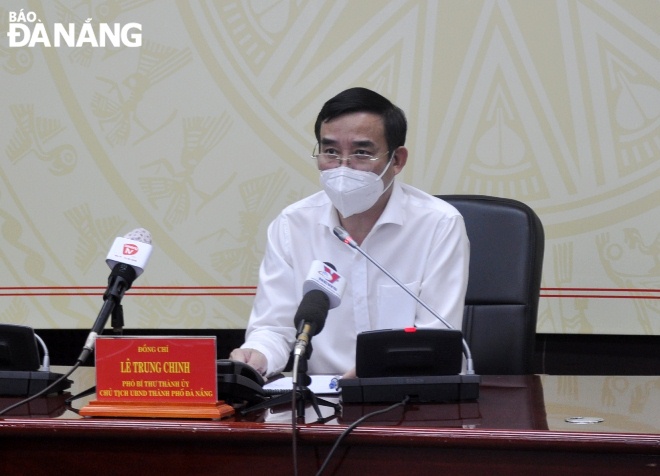 Chairman Chinh delivers his address at the regular meeting of the municipal Steering Committee for COVID-19 prevention and control on Wednesday afternoon. Photo: LE HUNG
The municipal Department of Education and Training was tasked to develop plans for safely reopening schools with the secondary school pupils in COVID-19 free areas heading back to classrooms first.
Chairman Chinh highlighted the need for the taskforce and relevant agencies to keep a close watch on people who fly back home from other parts of the country and monitoring the returnees who are on home quarantine in a bid to prevent the spread of the virus.
Mr Chinh said that the municipal government has asked the Ministry of Health to send more COVID-19 vaccines to the city in order to administer them to people aged 65 and over, those with underlying health conditions, along with students aged 12 to 17.
District leaders proposed that the city resume more activities, including allowing coffee shops and breakfast eateries to resume indoor seating. In addition, beach opening hours for swimming were also proposed to extend, and the operation of traditional markets were asked to expand to satisfy the needs of beach-goers and shoppers.
Doctor Ton That Thanh, the Director of the municipal Center for Disease Control and Prevention said that Da Nang has recorded no new community cases of COVID-19 for 12 straight days. On October 12, the city conducted COVID-19 testing for 14,220 people, of whom, 12,177 got RT-PCR tests and 2,043 others took rapid tests.
Latest figures from the health agency show, 93.6% of the city's adult population have received at least one dose of the vaccine, while 13.8% have had both, giving them maximum protection against the deadly virus. On Tuesday evening, 100,000 doses of Vero cell vaccine and 52,650 doses of Pfizer vaccine were distributed in Da Nang.
Currently, the Lung Hospital is the only healthcare facility across Da Nang where 50 patients, including 2 requiring critical care, are being treated for COVID-19, of whom, 28 tested negative for the virus. However, the health agency is well prepared to respond to any surges of COVID-19.
Reporting by LE HUNG – translating by H.L
.