Three mobile apps allow Da Nang users to show proof of COVID-19 certificates to enter venues and events
October 13, 2021, 09:09 [GMT+7]
Three mobile applications allow Da Nang users to prove vaccination against COVID-19, testing or prior illness. Launched by the Da Nang government, the applications allow users to access QR codes containing their relevant personal information and COVID-19 certification.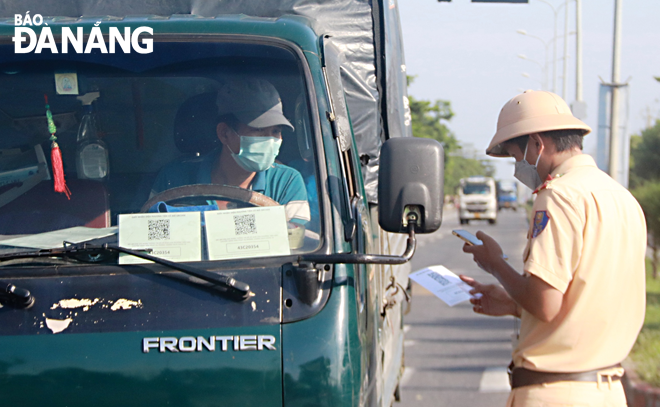 A traffic police officer pulling over a truck driver to check his COVID-19 certificate with QR Code. Photo: DAC MANH
Da Nang has developed three mobile applications namely DaNang Smart City, khaibaoyte.danang.gov.vn, and switchboard 1022's Zalo.
People across Da Nang are required to complete a health control form online on the city-developed apps and obtain their QR Code to show it at the places they visit and events they attend. They can print this out or show it on their phones as proof of completion.
Using a QR code for visitor management is made mandatory in businesses, shopping centers and services in Da Nang.
The new regulation came into force in Da Nang from September 30.
The application scan the QR code with the phone's camera, and the phone's display lights up green if the certificate is valid and red if it is invalid. When scanning the QR code, the application will present the details of the holder of the certificate, including name, date of birth, the validity of the certificate, and which vaccine was used.
Those who have received both doses of a COVID-19 vaccine or have recovered from COVID-19 within the past 6 months will obtain their QR code with green background while those who received their first COVID-19 vaccine dose 14 days ago or longer, will obtain their QR code with yellow background. People who have not been vaccinated or have received their first dose of a coronavirus vaccine for less than 14 days or their vaccination status is not updated, they will obtain QR code with white background.
Reporting by DAC MANH – Translating by H.L
.