Familiar taste of homeland dishes amid crowded urban markets
May 24, 2022, 15:44 [GMT+7]
In spite of living in the middle of Da Nang, a great deal of families has still kept the habit of going to markets early to purchase assorted fruit and vegetables, fish or vegetables bearing home flavour. Thanks to this, the love of many people living far from home for dishes of childhood has led to regular shipments from the countryside to urban areas on a daily basis.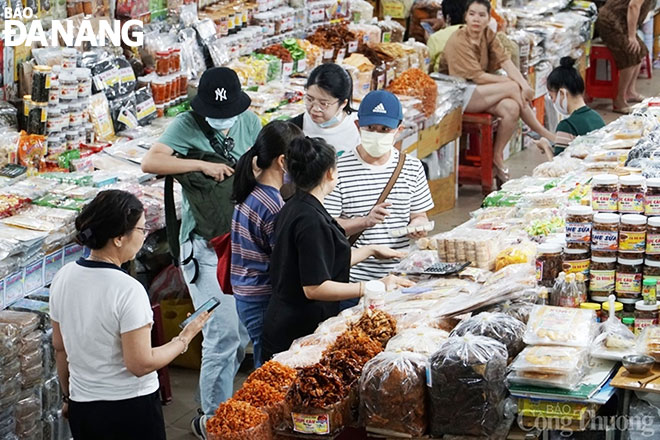 Numerous purchasers come to the Han market to buy dishes bearing the tastes of their hometown. Photo: V.L
1. Ms Vo Thi Phuong, residing in Dai An Commune, Dai Loc District, Quang Nam Province, gets up at 3: 00a.m. and then travels more than 40 kilometres by a motorbike carrying assorted vegetables to be at Hoa Cuong wholesale market at 5:30 a.m. daily.
The sense of the countryside in Ms Phuong's vehicle comes from a bunch of green vegetables, herbs, sticky corn, horn peppers, dried sweet potatoes, papaya, and onions, all of which are purchased in Bau Tron, a large vegetable-growing area in Dai Loc District.
Not being far away from Ms Phuong's stall at Hoa Cuong market is the stall displaying ginger, turmeric, sweet potato, sticky corn, eggplant, squash, and, mushrooms to sell of Ms Tran Thi Hong, a native from Duy Xuyen District, Quang Nam Province. As shared by Ms Hong, these goods are purchased from the farmers market in Nam Phuoc Town, Duy Xuyen District.
On weekends, the stalls selling goods coming from rural areas of stallholders coming from Quang Nam Province have always attracted a large number of buyers. Ms Nguyen Thi Hong Thu, residing in Hoa Cuong Bac Ward, Hai Chau District said that she has to go to the market from 7:00 am to buy fresh food sourced from rural areas.
2. As a child of Hue city, whenever Mr Tran Van Ngoc, who resides in from Son Tra District, wants to eat mussel rice or sour tria( a kind of clam) soup, he does not hesitate to go to Dong Da market to buy ingredients. According to Mr Ngoc, in Da Nang, only Dong Da market sells all Hue spices and herbs.
Not to mention that fermented shrimp sauce served with mussel rice must be Hue's one, otherwise, it will lose the typical and familiar flavour of this dish. Although he has settled down in Da Nang for more than 10 years now, he has still chosen this place to bring back his nostalgia for the delicious dishes of Hue.
Currently, Dong Da market has nearly 40 Hue-origin stallholders selling goods bearing their home flavour. Ms Nguyen Thi Hanh, who was born in Dien Hai Commune, Phong Dien District, Thua Thien Hue Province, said that the Hue people's eating habits still cannot be different despite being away from home for decades.
Taking eating boiled pork as an example, Hue people definitely have to eat it with figs, topped with herbs and shrimp paste or mam ro ( a type of fermented fish paste).
The goods sold at Ms Hanh's stall are all taken from Hue. Especially, she also sells ginger jam, turmeric jam, lotus seed jam and various kinds of fish sauce, and pickled scallion heads whenever Tet is coming. When it comes to the season of any delicious food in Hue, Ms Hanh brings it to Da Nang.
In the same vein, when cooking Hue beef noodles, the broth must be cooked with purple lemongrass having small, fragrant stems and a cup of shrimp paste broth according to the Hue recipe.
In addition, raw vegetables served with the dish must have Centella Asiatica and herbs grown in strips of land along the Tam Giang lagoon area. That is also the reason why Hue people often attach the word "Hue" to each dish or condiment to distinguish it from other regions.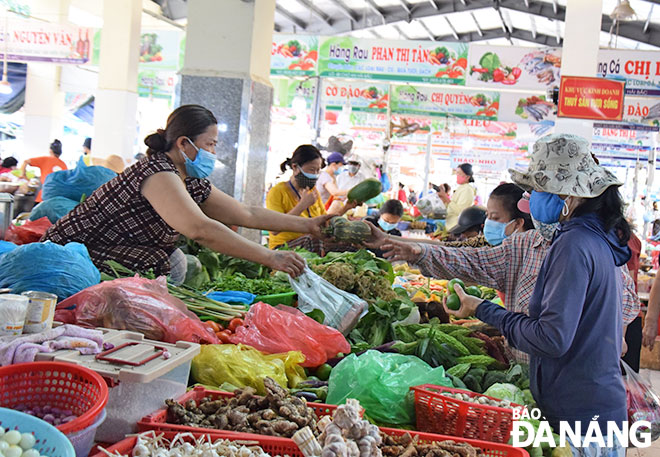 A stall at An Hai Bac market, Son Tra District. Photo: T.Y
3. The subtle flavour of home in the bundles of vegetables, tubers, spices or some typical ingredients is the reason why corners selling hometown goods at urban markets are so popular.
Ms Tran Thi Hong Hanh, a native of Bac Tu Liem District, Ha Noi, now living in Hai Chau District, said that having lived in Da Nang for 7 years, she has still kept the eating habits of a typical Ha Noi person.
On weekends, she would treat her family members to dishes such as vermicelli with fried tofu and shrimp paste or bun cha, all of which are cooked with delicious ingredients bought from Con market or Han market in Hai Chau District.
On any day that she doesn't like to cook, she goes to Chieu market in Tho Quang Ward, Son Tra District to buy ready-made spring rolls or grilled pork intestines for her family's meals because this market has delicious grilled pork intestines bearing standard northern taste.
In general, each regional dish has its seasoning and recipe. As time goes by, consumption trends may change but traditional markets have been still places to "meet" the flavours of home, not only in cuisine but also in regional accents for people living far from home.
Thus, for generations, the market has become a place of regional cultural interference. People who have been to the market for a long time can know a few more typical dishes of people in other regions.
On top of that, for sellers, the profit they earn every day has been also the joy they receive as selling the taste of their homeland to people living far from home.
Reporting by TIEU YEN- Translating by T.VY
.