Firefighters gain quick control of house fire in Da Nang
May 24, 2022, 18:05 [GMT+7]
Firefighters in Ngu Hanh Son District, Da Nang, gained quick control of a house fire on Monday evening.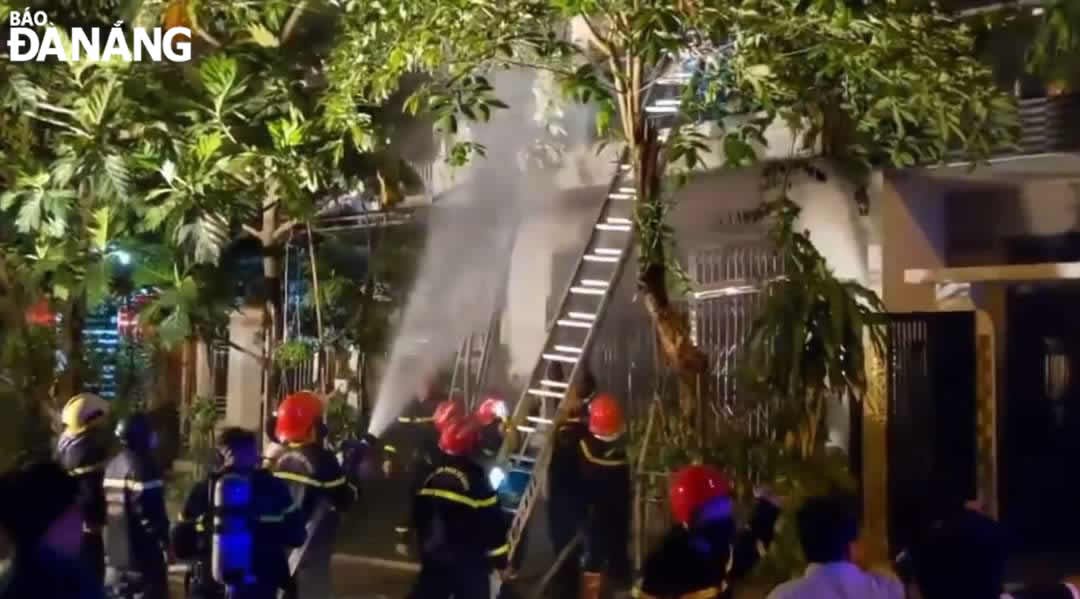 Firefighters are making efforts put out the house fire. Photo: L.H
The fire broke out at 8:00pm at a 2-storey house located on My An 14 Street in My An Ward, Ngu Hanh Son District. The owner of the house was a 56-year-old man, identified as N.V.A.
After receiving a report from local residents, 5 fire engines along with dozens of firefighters from the Fire Prevention, Fighting and Rescue Police Division under the Ngu Hanh Son District Department of Public Security arrived on the scene and quickly extinguished the house fire.
Plumes of smoke and toxic fumes emanated from the fire and filled the sky. The house was locked, so firefighters had to break into the house that was on fire by breaking the main door lock, using ladders to break into a second floor apartment, and dismantling corrugated steel roofs for allowing smoke to escape.
Thanks to the great efforts made by the firefighters, the blaze was completely extinguished within two hours before flames begun to spread out to another nearby home.
The cause of the fire and the initial damage are under investigation.
Reporting by LE HUNG - Translating by M.DUNG
.