Da Nang's efforts to prevent drowning accidents by offering children's swimming lessons
June 24, 2022, 18:35 [GMT+7]
Since early summer, authorities at local level across Da Nang have worked with local relevant agencies to promote the city's movement of offering swim lessons in a bid to help reduce drowning risk for children.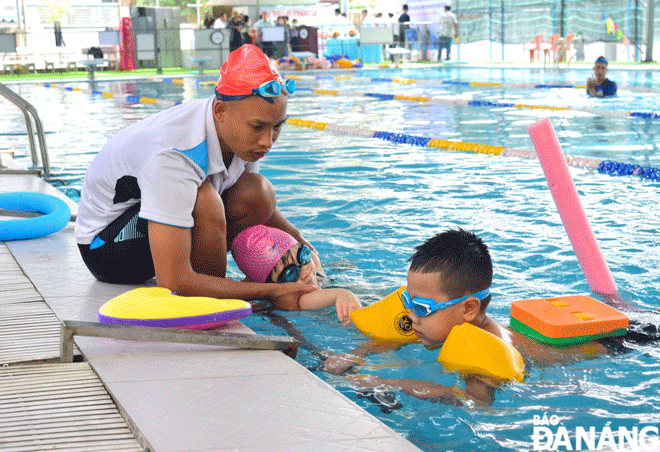 Swimming lessons are being offered to chidren across Da Nang in a bid to reduce the risk of drowning among them. Photo: P.N
Mr. Tran Van Manh, the Director of the Hai Chau District Cultural and Sports Center, said that the district recently launched a wide range of summer activities for children to make their summer fun to celebrate National Action Month for Children 2022. The focus has been on opening swimming classes for children in an attempt to get them involved in this fun, fitness-improving and life-saving activity.
"Drowning is the third leading cause of unintentional injury death for people of all ages, especially children. In their efforts to prevent drowning accidents, 13 wards across Hai Chau District have given high priority to increasing awareness of the importance of swimming and water safety lessons. Besides, free swimming lessons are being offered to children in difficult circumstances. The district set its summer target to have 65 such children provided with basic swimming skills in order to eliminate the risk of drowning ", Mr. Manh remarked.
Mr. Pham Van Toan, a teacher at the Ly Thuong Kiet Junior High School in Hai Chau District and a swimming instructor at the Hai Chau District Cultural and Sports Center said that learners will be provided with swimming and water safety lessons, including basic swimming skills and essential water survival skills such as water entry and exit, breath control, submerging, floating, and breaststroke.
Teacher Toan remarked that children would know how to swim two weeks after they are enrolled in swimming lessons as they overcome their fear of water and swimming. The center now has 30 qualified swimming instructors while day and evening classes are open to children.
Besides, many schools in Da Nang also have offered swimming and water safety education to their students in efforts to provide initiatives and resources to support them to be safe in, on and around water.
Mrs. Huynh Thi Thu Nguyet, the Principal of the Nui Thanh Primary School in Hai Chau District said that, like previous years, the school has offered free swimming lessons for its students during this summer, and learners will earn their certification after taking a water safety class from their school.
Mrs Dinh Thi De, the Principal of the An Phuoc Primary School in Hoa Vang District expressed her delight at receiving funds worth over VND 800 million from the Community Disaster Prevention Fund to build a swimming pool in the school. Currently, the school is offering swimming lessons to grade 2-5 students in accordance with the water safety and swimming education program for primary school students released by the Ministry of Education and Training.
Parents of primary school students in Hoa Vang District highlighted the need for children to participate in swimming lessons at a young age in helping them become more comfortable in the water, and teaching them to float and safely operate in the water as there are many ponds, lakes, rivers and streams across the district while floods are the most frequent natural hazard here.
Mrs Le Thi Bich Thuan, the Director of the municipal Department of Education and Training, said that more than 78% of the city's primary schools and 40% of the city's junior high schools have built swimming pools till date, and these schools have got their funding from the city's budget to be able to offer free swimming lessons for their students. This summer, Da Nang's schools are stepping up the opening of swimming classes for their students to prevent drowning.
Reporting by PHI NONG – translating by H.L
.