LPA in East Sea develops into tropical depression
August 04, 2022, 17:14 [GMT+7]
National weather forecasters are tracking a new tropical depression intensified from a disturbance over the East Sea.
The low pressure area (LPA) has become a tropical depression in the East Sea, according to Viet Nam's National Center for Hydro-meteorological Forecasting (NCHMF).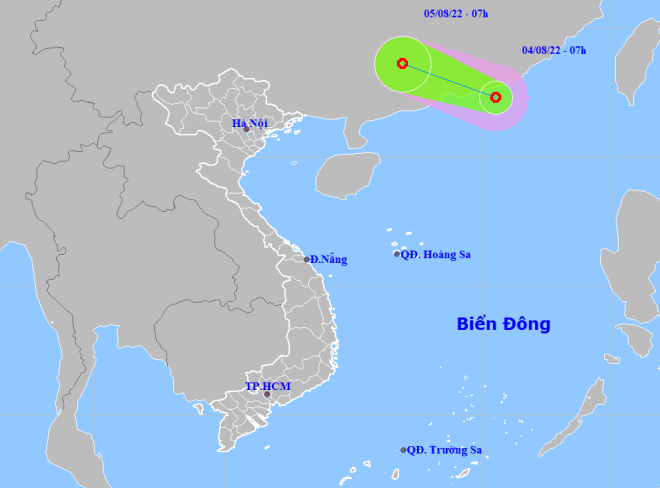 The forecast track of the newly-formed tropical depression over the East Sea. (Source: NCHMF)
In its latest bulletin, the National Weather Service said that at 7:00am on Thursday, August 4, the centre of the depression was already postioned at latitude 22°3'N and longitude 115°5'E, and it lied to southeast of China 's Guangdong Province, with the maximum sustained winds reaching level 6, and the gusts as high as level 8.
Over the next 24 hours, the depression will move west- northwestward at 10-15kmph, make landfall in China 's Guangdong Province, and then weaken into a low pressure area.
Under these conditions, northern part of North of the East Sea will see maximum sustained winds at level 6, gustiness of level 8, and experience rough seas with waves as high as 2-3m.
The combined effects of the LPA and the southwest monsoon will bring showers and thunderstorms to the offshore areas stretching from Binh Dinh to Ca Mau, Ca Mau to Kien Giang, the Gulf of Thailand, the middle and south of the East Sea (including the waters of the Truong Sa Islands) during daytime and night hours on Thursday, national weather forecasters have warned.
Thunderstorms can produce tornadoes, and strong winds at levels 6 to 7 in the warning areas.
The Da Nang Steering Committee for Disaster Response and Search and Rescue is urging authorities at local level and relevant units to take mitigation measures in response to severe weather conditions at sea.
The Da Nang Steering Committee for Disaster Response and Search and Rescue is also asking the Da Nang Border Guard Command to work with Da Nang Coastal Information Station to keep a close watch on disturbance development in order to keep owners of vessels operating at sea timely informed about severe weather conditions in order to help them take the initiative to avoid dangerous areas or seek safe shelters during the bad weather.
The Da Nang Border Guard Command will keep a close watch on offshore and inshore vessels and make the resources available in order to organize timely rescue of any person in distress at sea and provide timely support for those who need it during severe weather.
Reporting by HOANG HIEP – Translating by H.L
.