Da Nang newspaper's reporters honoured with 'Developing Da Nang into An Environmentally Friendly City' awards
December 13, 2022, 10:37 [GMT+7]
The Da Nang Department of Information and Communications held a ceremony on Monday to honour best articles for developing Da Nang into environmentally friendly city in 2022.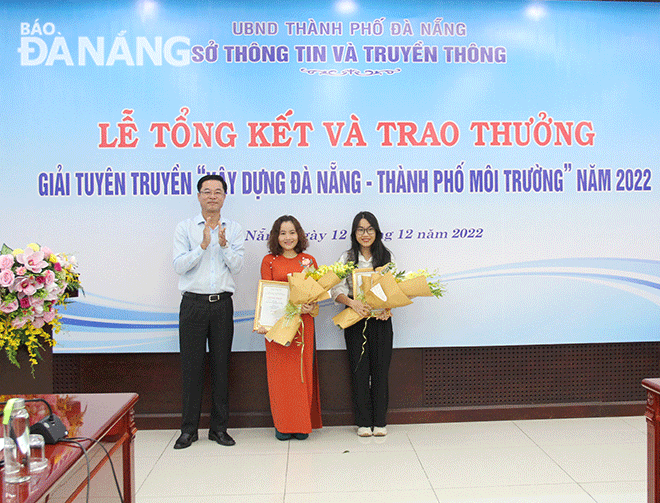 A representative from the organising board and thrid-prize winners. Photo: HA TUYEN
After 2 months of launching, the organising board received a total of 215 journalistic works which all deeply reflected on the issues of plastic waste, and publicised many good models and examples involved in environmental protection activities.
The organisers awarded two second prizes (without first prize) for the 'Promoting environmental protection as seen from scientific research activities' work by the group of authors Vo Kim Phuong, Quang Tan and Ngoc Net from the Da Nang Radio and Television and the 'Building an environmentally friendly city: Starting from the protection of Son Tra "green lung"' work by Mai Van Quang from the Da Nang Portal.
Also, there were two 3rd and seven consolation prizes for outstanding works.
Notably, reporters Phung Thi Xuan Hau and Bui Ngoc Phu from the Da Nang Newspaper won third and consolation prizes for the works 'Spreading the message of environmental protection' and 'Determination to build a green Da Nang' respectively.
Reporting by XUAN HAU - Translating by M.DUNG
.