Da Nang teacher's strong dedication towards students with disabilities
December 16, 2022, 17:55 [GMT+7]
Teaching normal children is difficult, but teaching children with autism is even more challenging. However, for Mr Nguyen Xuan Viet, a teacher at the Da Nang Center for Inclusive Education Development Support, just seeing children's little progress every day can make all of his fatigue disappear. That motivation has helped him stick with those special students for the past 14 years.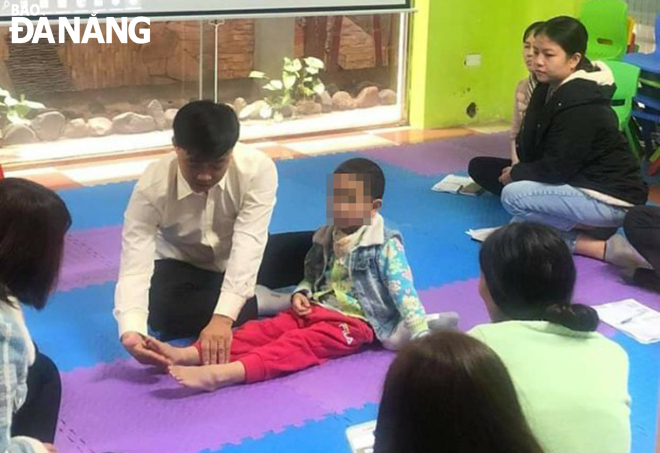 Teacher Nguyen Xuan Viet is helping an autistic child to do physical exercise. Photo: THAO NGUYEN
In 2008, after graduating from the University of Science and Education - the University of Da Nang, he worked at Nguyen Dinh Chieu School for Children with Disabilities, which is currently the Support Center for inclusive education in Da Nang, and continue working there until now. His duty here is not only to teach but also to become a nanny for the children.
However, he is not discouraged because his happiness is just as simple as seeing the children read and do some simple calculations. His students have many different types of disabilities ranging from cerebral palsy, autism, hearing impairment, visual impairment, and hyperactivity to motor disabilities. Therefore, his teaching method has to be flexible to be suitable for each situation.
"Teaching autistic children is very challenging; therefore, if we are not patient, it is impossible because they cannot make progress right away, it is a very long process," shared Mr Viet
With the aim to improve the effectiveness of teaching, Mr Viet has effectively applied the Dohsa-hou method to teach children with autism spectrum disorders. According to teacher Viet, the Dohsao-hou method is superior to other traditional psychotherapeutic methods since it is less expensive, does not require too complicated conditions such as exercise equipment, or room, and brings immediate and long-term effectiveness in early intervention and rehabilitation for children with disabilities.
This method requires basic practical skills such as guiding skills, skills to create close and safe relationships; communication skills; skills to encourage, motivate and empathize between therapists and patients. For more than 20 years, the Dohsa-hou movement training method has been considered the most effective psychotherapy-based rehabilitation program in Japan.
Thanks to this method, Mr Viet has helped many children improve. For example, when N.K , 7 years old, first entered the centre, he didn't care about anything but toys and never sat still. Then Mr Viet gently came to his side and used the Dohsa-hou technique of "pressing and releasing" at some points on the child's body. As K. got used to the new environment, the teacher gradually applied methods to support language, cognitive, motor and communication development. So far, K. has changed a lot, cooperated and participated in more activities given by the teacher.
In the same vein, another child with moderate-severe autism spectrum disorder has poor pronunciation and is always tense and nervous when others speak loudly or when hearing loud sounds. Initially, when participating in the practice of the Dohsa-hou method, the child was always in an uneasy mood, leading to extreme difficulty in contacting and practising with him because he didn't allow other people to touch his body.
However, teacher Viet did not give up. He has slowly become a friend, played with him and applied the exercise "pressing and releasing" of the Dohsa-hou technique at different points on his body. After months of practising the method, the child has made numerous improvements in interacting and communicating with the teacher. He understood and followed the instructions of the teacher such as lying down, raising arms, lowering arms, sitting up straight, and relaxing his body.
It has been more than 10 years going through hardships mixed with joy when seeing the progress of the children, Mr Viet said that his endless effort, perseverance and, desperate love for children have retained him to stay with the profession. It is the very simple progress of children such as knowing how to call father, mother, thank you, and sorry that makes the dedicated teacher have joy, happiness and motivation to continue on the path he has chosen.
Reporting by THAO NGUYEN- Translating by T.VY
.