Da Nang's vulnerable populations urged to take precautions to prevent cold related illness
December 23, 2022, 18:18 [GMT+7]
Da Nang is experiencing cold wave conditions that can affect the health of local residents, make some health problems worse and even lead to serious complications. A quick drop to cold temperatures will make you, especially vulnerable populations including older adults and children, more likely to get sick as cold weather create favorable conditions for bacteria and viruses to develop. Therefore, Da Nang's residents, especially vulnerable populations, are urged to take extra precaution during cold weather to ensure they eat proper meals as well as stay warm and healthy when it gets cold in order to prevent cold related illnesses.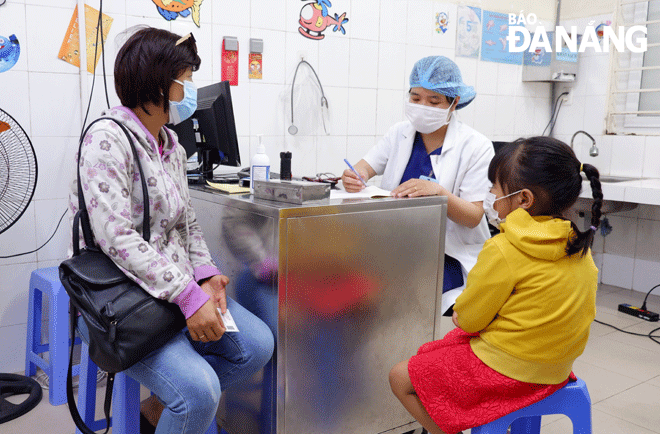 A child patient gets physical examination for a respiratory disease at the Da Nang Maternity and Paediatrics Hospital. Photo: PHAN CHUNG
In recent days, the Emergency Outpatient Department at the Da Nang Maternity and Paediatrics Hospital has witnessed a continuous rise in the number of child patients with 1,300 patients per day. It is worth mentioning that more 60% of these child patients have been diagnosed with respiratory diseases.
Doctor Le Van Dung, the Deputy Manager of the Hospital's Emergency Outpatient Department said, common respiratory diseases among children during the cold weather include influenza, bronchitis, pneumonia, and asthma.
The most common symptoms in patients with respiratory diseases include a continuous cough, high-grade fever, runny nose, sore throat, and even wheezing and shortness of breath in severe cases.
Meanwhile, the Hospital's 200-bed Paediatric Respiratory Department has faced an overload of child patients with respiratory diseases over the past 2 weeks. The department has forced to install extra beds to cope with increased patients reaching over 200 child cases.
Doctor Truong Thi Thu Huyen, the Manager of Respiratory Department pointed out the main reason for significant rise in the number of child patients with respiratory diseases is cold weather combined with humid conditions caused by rains that affect the health of children as they are now most vulnerable to respiratory viruses.
Parents are advised to keeping their children warm during cold weather, and keeping them away from infected adults, as well as ensuring that they wear face coverings in order to keep them safe and healthy. Children should eat proper meals, eat more leafy greens, and drink plenty of fluids in order to boost their immune system to keep them healthy during cold weather. Importance should be attached to regularly disinfecting mouth and throat of children as well as adopting preventive measures in schools as they are susceptible to respiratory diseases during weather changes.
Doctor Nguyen Hua Quang, the Manager of the Department of Respiratory - Allergy and Clinical Immunology at the Da Nang General Hospital highlighted the importance of paying more care to seniors and those with weakened immune system due to a particular health condition during cold weather as sudden shift in the weather can trigger certain illnesses in them.
"Common cold-related diseases among seniors include influenza, pneumonia, dermatitis along with muscle, bone and joint problems. A sudden change in the weather also makes their chronic diseases worse, such as hypertension and diabetes Bronchial asthma and COPD (chronic obstructive pulmonary disease), "said Dr. Quang.
Health experts are urging Da Nang residents to stay alert and take extra precautions to keep them safe and healthy as a wave of cold weather hitting the city poses health risks, particularly to people in vulnerable situations.
Cold weather increases the risk of cardiovascular and respiratory disease. Anyone can be affected by cold temperatures at home, at work, while commuting or during leisure activities. Those most at risk of cold-related illness include elderly people, children, and people who have chronic diseases or physical or mental limitations.
Doctor Quang recommends wearing enough layers to keep older adults warm both at home and when they go out by wearing sweaters, winter hats and scarves, and thick socks. In addition, seniors should get enough nutrients, and exercise regularly in order to keep them healthy during cold weather.
He concerns that a sudden drop in temperature, which Da Nang is experiencing, can make local residents more prone to sickness. Sudden drop in temperature reduces humidity levels. This makes viruses stronger and immune system weaker, making people fall sick, especially senior citizens, and people with health conditions. He stated that clinically extremely vulnerable people have the highest risk of developing hypothermia and cardiovascular diseases during extreme cold weather, thereby urging the elderly and people with underlying medical conditions to keep their body warm, and avoid strenuous outdoor activities during cold weather.
"Older adults should eat well-cooked, soft and easy-to-digest foods. At the same time, they should do regular physical activity to improve their blood circulation, and refresh their spirit, as well as boost their cardiovascular and respiratory systems, " advises Doctor Quang.
Reporting by PHAN CHUNG – translating by H.L
.