Laos, Philippines see drop in COVID-19 infections
October 18, 2021, 08:28 [GMT+7]
The Lao Ministry of Health said on October 17 that the country recorded 296 new infections of COVID-19 and two deaths in the past 24 hours.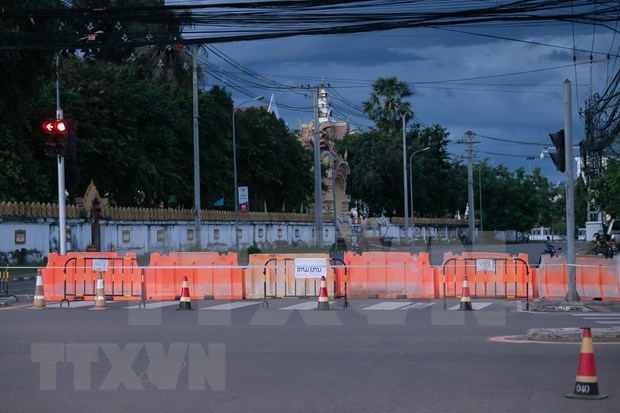 A street blockdowned for COVID-19 prevetion and control in Vientiane capital, Laos, in September. Illustrative image (Photo: Xinhua/VNA)
Thus, the total number of COVID-19 cases in Laos is currently 32,029, including 40 deaths.
Of the new cases, 283 were detected in the community in 10 provinces and cities.
The Ministry of Health said that although the number of new cases in Laos has decreased, it is still high, and the country is trying to ensure adequate care and treatment services for COVID-19 patients.
The Lao Government has asked localities to promptly make their vaccination distribution plans and focus on vaccinations for target groups in a systematic and equal manner. It also called on high-risk groups to get vaccinated against COVID-19.
In the Philippines, the number of new COVID-19 cases has fallen to below 8,000 cases per day since October 13, but people are urged to stay vigilant and comply with pandemic prevention regulations to prevent a new wave of infections.
Previously, the Philippines recorded the highest number of new cases per day ever with 26,303 cases on September 11.
The country on October 17 recorded 6,913 new COVID-19 cases, bringing the total tally to 2,720,368. COVID-19 cases.
Source: VNA
.