Protecting intellectual property rights of local producers
Published: June 03, 2016
Over recent years, the Da Nang Department of Science and Technology has focused on helping local businesses to register the intellectual property rights (IPR) of their brand names. The purpose is to promote the commercialisation of intellectual property and raise awareness about the important role of IPR amongst local businesses during their trading and production activities.
The Department helped many businesses during 2014 and 2015, and here are 4 examples: the Nghi An Bean Sprouts Cooperative with the 'Nghi An Bean Sprouts' brand name, Mrs Trinh Thi Hong with her brand name of 'Minh Hong' for her biological multi-purpose products, the La Chau Village mushroom production group with the 'La Chau' brand name for its mushroom-related products and services, and the Cam Ne safe vegetables growing group with the 'Cam Ne-Hoa Tien' brand name for its types of fresh vegetables and related services.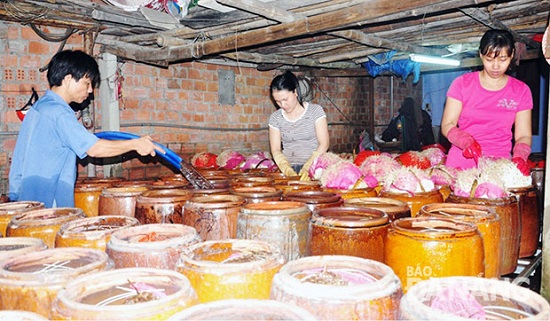 Employees at the Nghi An Bean Sprouts Cooperative
Mr Duong The Trong Hieu, Deputy Director of the Nghi An Bean Sprouts Cooperative, said "The growing of bean sprouts has developed over dozens of years in Cam Le District's Nghi An Village. However, we did not pay much attention to registering a brand name for our products. The Da Nang Department of Science and Technology, and local relevant agencies, have made us realise the importance of IPR".
Mrs Trinh Thi Hong remarked "Trademark registration offers the strongest possible legal status to protect its owners from any IP infringements".
She said "Recently, my ideas about home appliances and personal care products were plagiarised by my rivals. Fortunately, I have now regained the rights over my products thanks to the timely assistance of local relevant agencies.
A representative from the Department affirmed that the IPR registration of brand names will help the city to enhance the effective management and development of its traditional products and specialities. This will also help to promote the city's social-economic development and the preservation of local traditional crafts and cultural values.
.