Adjustments needed to policies for supporting businesses
Published: March 21, 2017
On Monday, Da Nang People's Committee Vice Chairman Ho Ky Minh and representatives from the local authorities met with a group from the National Steering Committee for Enterprise Renewal and Development, led by its Deputy Head cum Deputy Head of the Government Office, Mr Le Manh Ha.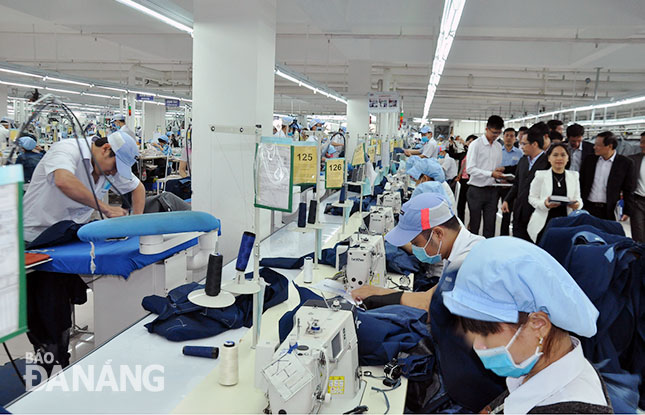 Workers at a local factory
There were discussions about the implementation of the national government-approved Directive No 35 NQ-CP regarding supporting and developing businesses nationwide towards 2020.
Mr Ha underlined that the visit aimed to collect as many constructive opinions as possible from the city's authorities, businesses and related associations about the Directive, thereby helping the national government make suitable adjustments to the regulation for the benefit of businesses.
He remarked that the national government is willing to facilitate businesses nationwide because they are a vital driving force for bolstering the country's progress.
At the meeting, many participants raised issues of deep concern about land policies, production and business premises, social insurance, bank interest rates, and technological innovations.
The Chairman of the Board of Directors and General Director of the Thuan Phuoc Seafood and Trading Corporation, Mr Tran Van Linh, noted that recent years have seen a sharp increase in land lease prices in local industrial parks, which has caused financial difficulties for businesses conducting their production activities there.
Vice Chairman Minh remarked that, over recent years, the local authorities have issued many specific and effective action plans, with a focus on enhancing administrative reforms, creating favourable conditions for enterprises to operate, creating a favourable environment for supporting start-up businesses, and guaranteeing equal treatment of all businesses.
He also suggested that the national government should make suitable adjustments to some current laws and policies to simplify the administrative procedures for businesses.
Representatives from the city's branch of the Viet Nam Chamber of Commerce and Industry underlined the need for government agencies to enthusiastically listen to constructive feedback from businesses and make positive changes before implementing the policies.


.