Da Nang Hi-tech park grants licence to local investor
Published: March 16, 2017
Da Nang's high-tech park has granted an investment licence to local firm QCM Technology company for an embedded software system development project.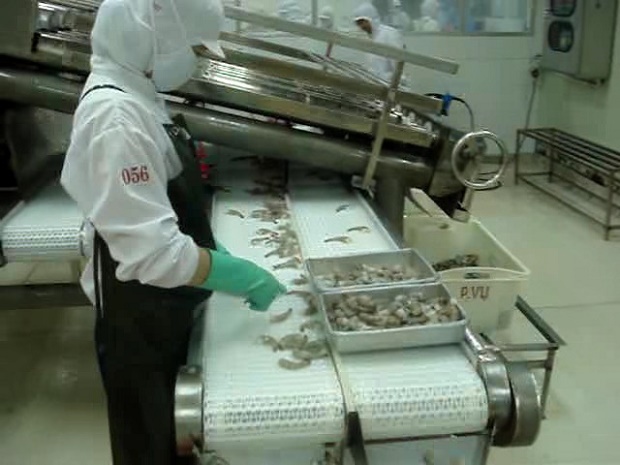 A worker operates a shrimp size grading machine at QCM company's factory. (Photo courtesy of Nguyen Thanh Chuong)
The park's authority said the project would develop embedded software applications in seafood processing, agriculture and forestry production.
The project, which covers 5,300m2 with total investment of 50 billion VND (2.2 million USD), will be put into operation from September this year.
Nguyen Thanh Chuong, Director of the company, said the project would produce technology solutions – including shrimp size and weight grading machines and applications in seafood and agricultural production.
He said the project would research advanced technology to gradually reduce the reliance on imported equipment among local manufacturers.
The project is the second technology research and manufacturing project in the park after a nano-technology and biotech project was launched by Da Nang Pharmaceutical Joint Stock Company.
The head of the park's authority, Phung Tan Viet said the park had attracted six projects valued at 180 million USD from two Japanese and four domestic investors since the park was put into operation in 2013.
Two Japanese investors – Tokyo Keiki Precision Technology Inc and Niwa Foundry, have opened their plants in the park with total investment of 62 million USD.
Earlier this year, the park's authority had granted an investment certificate to the U&I Logistics Joint Stock Company for its logistics project with total registered capital of 14 million USD.
According to latest reports, Da Nang has attracted 461 foreign direct investment (FDI) projects worth 3.8 billion USD to date.
FDI enterprises earned revenue of 776 million USD – of which 522 million USD came from exports – and contributed 112 million USD to the State budget in 2015.
The 1,010-ha park in Hoa Vang District, 20km west of the city, was designed as a hub for green and high-tech investors.
(Source: VNS/ DA NANG Today)
.