Tightening management of adventure tourism
Published: March 28, 2017
Da Nang boasts great advantages and potential for developing adventure tourism thanks to its diversified topography and abundant mountain and marine resources. The city is making every effort to tighten the management of this type of tourism to ensure the safety of participants.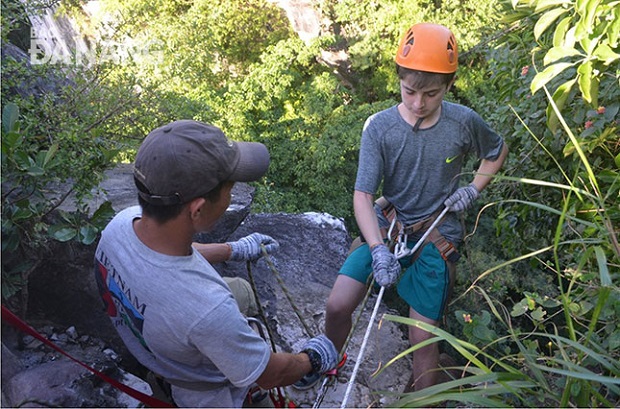 A foreigner (right) preparing for a climb at the Marble Mountain Tourist Area
The Deputy Director of the municipal Tourism Department, Mr Nguyen Xuan Binh, underlined the need for local adventure tourism service providers to strictly comply with the city's regulations on organising such activities and ensure that they always operate in a professional manner.
Mr Binh remarked "In the immediate future, the city's tourism department will re-check the operation of local adventure tourism service providers. Importance will be attached to issuing detailed regulations for businesses offering such services, and for those taking such adventure tours"
He continued "Adventure tourism lovers should only book tours operated by prestigious travel agencies, and they should strictly comply with safety regulations to avoid unexpected dangers".
The city now has some attractions where adventure tourism products have been allowed to be offered for visitors. Included are the Hoa Phu Thanh entertainment area, the Ba Na Hills Resort, the Marble Mountains Tourist Area, and Asia Park. All the necessary rescue and medical equipment is now available at these venues to be ready to offer first aid to victims of any unexpected accidents. In addition, a large number of rescue workers have been postioned in dangerous areas to ensure the safety of visitors.
Last year, permission from the city authorities was given to the Viet Adventure Tourism company to pilot climbing on Thuy Son Mountain in the Marble Mountains Tourist Area.
The company's Director, Mr Vo Duc Trung, said that his company always places the safety of customers as its top priority when offering its adventure tours. He stressed the need for local adventure tourism service providers to enhance their risk management capacity whilst developing such tours, and to provide training courses for their staff to ensure the safety of visitors. In addition, he noted that the equipment required must meet international standards, and it must be carefully installed.

.