Promoting development of fisheries
In recent years, the fisheries sector has been regarded as one of the key economic aspect in Da Nang's marine economic development strategy. Given that fact, the city has issued many praise-worthy policies and solutions to enhance the capacity and efficiency of offshore fishing activities.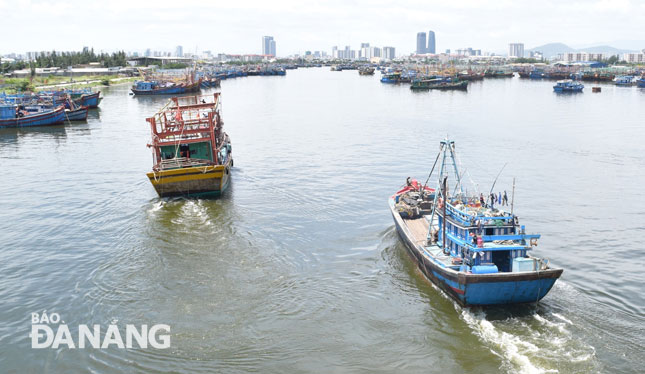 Since 2012, the city has seen a sharp increase in the number of high-capacity offshore fishing vessels
Currently, the city's fishing fleet consists of 583 fishing vessels of 90CV or more operating in Viet Nam's territorial waters, of which 474 have the capacity of over 400CV.
Of the total vessels, there are 16 fisheries logistics ships which are designed to supply essential provisions and buy freshly-caught seafood directly from other fishing boats already operating at sea.
The city's annual catch ranges from 38,500 to 43,000 tonnes worth between 1,500 and 1,750 billion VND in total.
The fisheries industry is also focusing on developing and ensuring the effective performance of the 112 existing groups of fishing boats to ensure their mutual support whilst fishing at sea. Of this figure, 77 groups, comprising 449 vessels of different capacities, operate offshore, whilst the remainder, containing 285 boats, fish in inshore waters.
Following the Government Decree No 67/2014/ND-CP on incentives to support the fisheries development on 7 July 2014, the municipal authorities on 12 December 2014 issued Decision No 47/2014/QD-UBND regarding fisheries development policies which allow fishermen to access loans for building new boats.
Under the Decision No 47, local fishermen receive 500 million VND from the city's budget for building 400CV to 600CV fishing boats, 600 million VND for building 600CV to 800CV boats, and 800 million VND for building 800CV and above boats. In addition, boat owners enjoy exemption from registration fees.
Thanks to the support policies mentioned above, the city has seen a sharp rise in the number of high-capacity fishing vessels, especially steel-clad boats that are safer and more effective than wooden ones.
Since 2012, a total of 84 high-capacity offshore fishing vessels have been built thanks to the support policies.
Over the past decade, the Thanh Khe District authorities have encouraged local fishermen to build new vessels, or to upgrade their existing ones, so as to withstand strong winds and high waves at sea.
A 17.6 billion VND high-capacity steel-hulled boat, owned by fisherman Dao Ngoc Minh Tam from Thanh Khe Dong Ward, built under the Government Decree No 67/2014/ND-CP, was launched mid last year, with the hope of conducting more profitable offshore trips.
Tam remarked highly applauded the effective measures taken by the national and municipal governments in helping residents feel more secure about the quality of local seafood, and creating extra motivation for local fishermen like him to continue their deep-sea fishing trips, and combine this with protecting the national sovereignty over its sea and islands.
With the help from Japanese experts, a flake ice making machine has been installed onboard Tam's ship. Rapidly cooling the caught fish and preserving its peak freshness, flake ice is the best choice for use in the fisheries industry due to its quick chill properties and versatility.
In addition to developing a high-capacity offshore fishing fleet, importance is being paid to upgrading and expanding the Tho Quang Fishing Wharf in Son Tra District in a bid to develop this venue into a modern, ecological, and environmentally friendly manner, in combination with making it be one of the city's inviting places.
Covering about 58 ha of water surface, the Tho Quang Fishing Wharf of the Da Nang Major Fishing Centre in Son Tra District features a storm shelter for fishing vessels hailing from Da Nang and other central coastal localities, a fishing port, and the Tho Quang seafood wholesale market.
In a bid to deal with the current overload problem and meet the increasing demand for using services at the wharf, seeking safe shelter from the storm, and boosting the socio-economic development of Da Nang, and the central region as whole, the city has developed a plan for upgrading the Tho Quang Fishing Wharf into a driving force fishing port of the Da Nang Major Fishing Centre.
Under an upgrade and expiation sub-project, the Tho Quang Fishing Wharf will be able to receive over 600CV fishing vessels, helping to increase cargo handling capacity, and shorten waiting time.
In addition, ice and production tool storage areas, a medical station, a canteen, warehouses, and food stores will be built.
.