Students innovate startup methods during post Covid-19 period
June 24, 2020, 19:12 [GMT+7]
Covid-19 has been basically brought under control nationwide whereby economic recovery is underway. However, many new challenges are facing the business community. In light of this fact, students actively involved in startup projects in Da Nang have to change their management and business methods to incredibly able to adapt to the pandemic-triggered challenging changes and thriving in sustainable manner.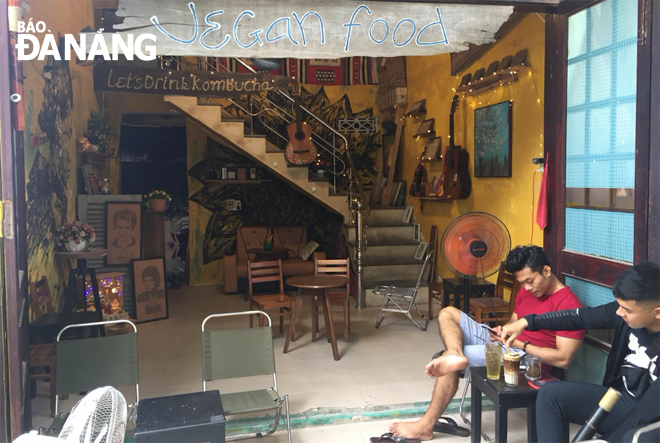 No Ca Pho coffee shop has flexibly adjusted business model towards increasing online interaction with customers during post-pandemic period.
In fact, those who focus on the older ways of doing things will be left behind.
Nguyen Van Tuan, a third-year student in Civil Engineering at the Da Nang campus of the Central University of Civil Engineering, now runs two milk tea shops in Khue My Ward, Ngu Hanh Son District.
He said the epidemic happened for a long time, causing business disruptions during 3-week national coronavirus lockdown. Restaurants, eateries and beverage shops are not allowed to serve dine-in customers.
Like other traders at that time, Tuan resorted to takeaway and home delivery services. He eagerly said the revenue recorded by his shops has increased much more than before.
Pham Van Tin, the owner of the No Ca Pho coffee shop in Thach Thang Ward, Hai Chau District, a student majoring in Information Technology at the city-based Duy Tan University, has actively made flexible adjustments to the business model combined with taking advantage of delivery services through such highly popular apps as Grab and Loship.
Tin highlighted the application of these non-traditional models in combination with running ads and increasing interaction with customers on social networking sites to help his shop maintain stable operation in the face of the pandemic. At present, the coffee shop's revenue increases by 140% compared to the period before the epidemic.
Whilst some startup businesses seeking to innovate themselves during the complicated pandemic, others, especially young entrepreneurs, choose to focus on how to develop attractive new products to meet consumers' diversified needs.
Typically, the Dark House coffee shop, a brand launched in early March 2020. Student Nguyen Quang Linh from Tourism Management Faculty at the Duy Tan University, the founder of The Dark House, revealed, " In the coming time, we will make new strategies such as launching new products for the ongoing summer, and offering promotions in an attempt to attract consumers to boost sales and develop the brand".
With the advantage of technology and engineering expertise, students from the Da Nang University of Technology and Education will have many opportunities to conduct more research into technology, from which innovations and startups are born. The Creative and Entrepreneurial Club of the University, in the time to come, will coordinate with Da Nang Hi-tech Park to support incubation and turn students' entrepreneurial ideas into feasible projects.
Director of the Startup Center of the Duy Tan University Truong Tien Vu highlighted the importance of the organisation of startup activities to the school. The University has introduced startup content in the formal training curriculum and applied a handful of advanced training methods so that students can maximise their creative thinking and ability.
Actually, on the positive side, the coronavirus-forced nationwide social distancing period promoted the strong development of digital technology, creating the creation of new products, services and business models, especially including start-up activities in the aspects of technology.
CEO of the Songhan Incubator (SHi) Ly Dinh Quan remarked the fact that Covid-19 is given business a push to make changes to go through challenges facing them, especially create a motivation for startups to thrive. "This is an opportunity to encourage for students to lift up the spirit of facing difficulties and uncertainties when starting up a business", emphasised Quan. Overcoming the challenges arising from the epidemic, young entrepreneurs will escape traditional thinking and find more new directions as well as gain experience in dealing with business difficulties, paving the way for startup brands to record sustainable development.
By PHONG LAN, GIAO THUY, PHUONG BUI – Translated by A.T
.