27.7 billion VND for second stage of Da Nang's first automated parking garage
November 06, 2020, 11:00 [GMT+7]
The Da Nang government will provide 27, 7 billion VND of funding for carrying out the second stage of the city-first ever automated parking garage located at 255 Phan Chau Trinh in Hai Chau District, Da Nang.
The new development will be carried out and managed by the city's Management Board of Traffic Project Investment and Construction for the 2020 – 2022 period.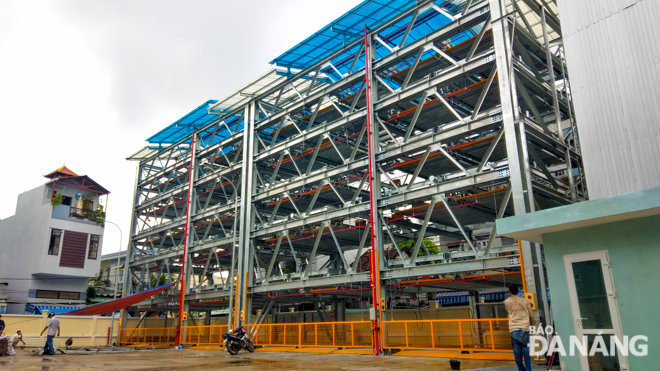 The city-first ever automated parking garage at 255 Phan Chau Trinh
Covering a total area of more than 1,000m2, the first stage of the steel framed parking garage, with a 2-year warranty, comprises two 6-storey blocks, together accommodating a total of 50 under 7-seater cars.
In particular, the pulley lift system, control equipment, advanced technologies, and such mechanical structures as frames and pallets, are imported from foreign countries which are famous for developing and providing technology transfer services.
An additional space for 74 vehicles will be added to the existing garage in the soon-to-be-deployed second stage.
By THANH LAN- Translated by A.T
.