Da Nang promotes sustainable practices in tourism
January 13, 2021, 21:04 [GMT+7]
In recent years, green tourism has risen to fame as an emerging trend in the hospitality industry in many countries worldwide, including Viet Nam, because of its great role in securing biodiversity protection and community culture, as well as its contribution to socio-economic progress. In Da Nang, however, to change public habits and behaviors in favour of zero waste tourism in a highly practical and effective manner, it may take time to realise, and above all, the drastic and synchronous participation of both tourism firms and the general public is an urgent need.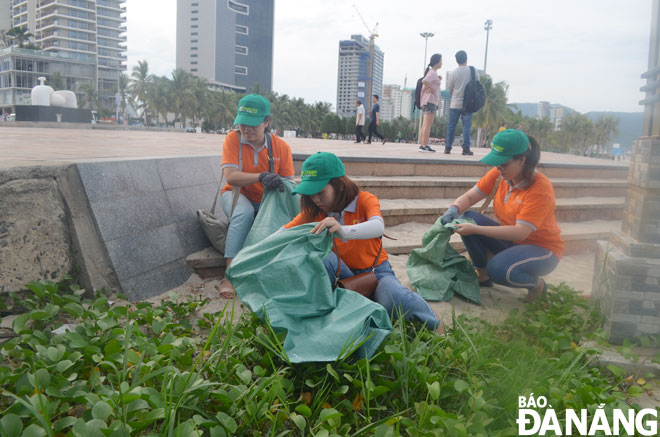 Development associated with environmental protection is an emerging trend of the tourism industry. The Asia Magics Travel Joint Stock Company staffers are seen joining cleanups on Pham Van Dong Beach, Son Tra District.
According to the Vietnamese Institute for Tourism Development Research, green tourism is known as tourism development based on the rational and efficient exploitation of natural resources, in association with environmental protection, biodiversity conservation, the reduction of greenhouse gas emissions and climate change adaptation.
Sustainable tourism is becoming increasingly popular as 70% of international travellers said that they would be more likely to book an accommodation knowing it was eco-friendly, whether they were looking for a sustainable stay or not (Booking.com, 2019). The number of sustainable travelers is on the rise, so the eco-friendly element becomes a prerequisite for hotels in Viet Nam and the world at large.
Not only does green tourism guarantee the sustainable tourism development but also it serves as a solution to increase the number of tourists with high spending levels and civilised actions.
In addition to travelers shifting towards more environmentally responsible, many resorts, hotels, restaurants, and travel agencies across Da Nang have begun to change their perceptions and become more responsible for protecting the environment by following green practices.
For many years, the renowned Furama Danang Resort, a five-star culinary beach resort in Da Nang, has limited the use of single-used items which are throw out after only one use, and utilised environmentally friendly ones instead such as paper straws and glasses, papyrus bags and palm leave conical hats for its clients. Such a simple deed helps limit a huge amount of waste going into the natural environment.
In recognition of its dedication to the environment, Furama Danang was granted the 'Green Lotus – The Ultimate in Luxury in Da Nang' certificate under the prestigious The Guide Awards 2017 - 2018, conducted by The Guide magazine (Viet Nam Economic Times).
The certificate aims to honour outstanding tourism enterprises for their significant contribution towards the development of Viet Nam's non-smoke industry as well as for their environmental protection efforts.
However, a concerning issue raised here is that eco-friendly items are generally more expensive than disposable ones, which discourages some hospitality firms, especially those with modest financial capacities, from "going green".
According to Ms Quach Thi Xuan, Director of Viet Nam's Centre for Consultancy on Sustainable Development and one of the pillars of the Vietnam Zero Waste Alliance (VZWA), every year, Da Nang welcomes several millions of visitors who discharge a large amount of waste into the environment during their travel activities.
To head for zero-waste tourism, it is essential to build zero-waste hotels/restaurants/ bars/ journeys and attractions. It is high time for the local authorities to instruct hospitality service providers not use disposable items.
Also, firms active in the tourism industry should increase their clients' minds – positivity, mindfulness, self-control, and environmental awareness, by encouraging visitors to use their own personal reusable water bottles and use fabric bags during their trips, for instance.
The Da Nang Tourism Department, in recent times, has implemented many specific action programmes to help improve the efficient use of natural resources, and step by step help the city enhance its competitiveness in terms of environmental protection.
In 2020, large numbers of volunteers across Da Nang joined beach and Son Tra Peninsula clean-up operations and got involved in 'Let's Cleanup the Ocean' and 'Saturday volunteering' campaigns.
In the coming time, heed will be paid to encouraging tourism businesses to follow green practices for the obtainment of the Viet Nam National Administration of Tourism-initiated Green Lotus label - a certification conferred on serviced accommodation establishments that make efforts to protect the environment, use natural resources efficiently and preserve Viet Nam's cultural heritage.
By NHAT HA- Translated by A.T
.