Solutions for building bigger startup ecosystem in Da Nang
January 13, 2021, 21:04 [GMT+7]
After nearly 5 years of laying solid foundations for its startup ecosystem, Da Nang has successfully implemented incubation programmes for many tech startups, and helped them build a strong network of customers across Viet Nam and the world at large.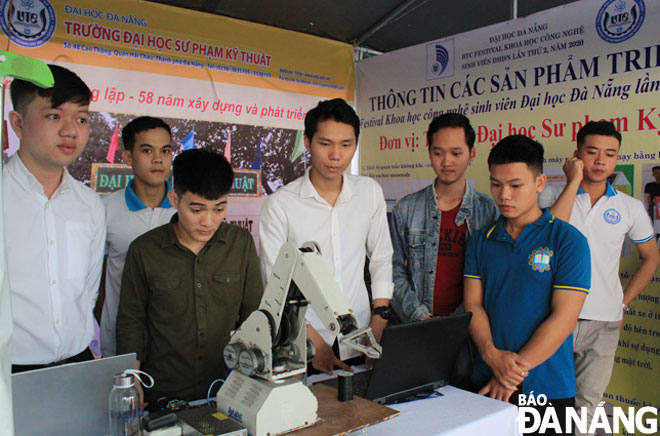 Da Nang students attending the University of Da Nang-hosted 2020 Festival of Science and Technology for Students
In the next 5 years, Da Nang plans to project itself as one of best destinations in Viet Nam for domestic and international start-ups
Nguyen Van Minh Duc, Director of the Hai Chau District-based Hekate Technology JSC - one of Da Nang's first startup projects, said his company had already faced a tough period to seek investors in the city for his project.
"At that difficult time, many potential investors asked us to move our headquarters to Ho Chi Minh City or to Singapore to have better access to capital and larger customer markets" Mr Duc remarked.
Mr Duc also said that start-up entrepreneurs in Da Nang found it very hard in finding customers due to addressing a more modest market than in Ha Noi and Ho Chi Minh City.
He underlined a must-do for Da Nang to encourage local residents to do startup activities in their hometown because they understand their city's cultural identity and internal strengths most.
"I hope Da Nang will truly become a startup city - where startup dreams will come true" Mr Duc said.
Ms Le Thi My Nga, CEO cum founder of the Hermes Management Co., Ltd., said startups need to go hand in hand with research and development activities. Therefore, she stressed the need to promote start-up activities amongst university and junior college students as well as establish startup support centres and startup business incubators in Da Nang so as to boost start-up activities in the time to come.
Deputy Director of the Da Nang Department of Science and Technology Tran Van Hoang revealed that, this year 2021, his agency would partner with Da Nang-based universities to seek scientists and experts to give active support for local startups.
Assoc. Prof. Dr. Vo Trung Hung, Vice Rector of the municipal University of Technology and Education, stressed the necessity for Da Nang to foster the connection between scientists and startup businesses, issue more robust and practical support policies for startups, and fully tap Da Nang's internal resources to create a consumer market for startup products.
By PHONG LAN - Translated by M.D
.