Da Nang enterprises seek other localities-sourced labour forces
April 26, 2021, 18:34 [GMT+7]
Despite the COVID-19 pandemic's impacts, Da Nang saw a bit bustling ambiance in the labour market early this year with a huge job recruitment demand on the rise. However, enterprises now till find it very difficult to fill job positions, and this fact is forcing them to seek labour resources from neighboring localities.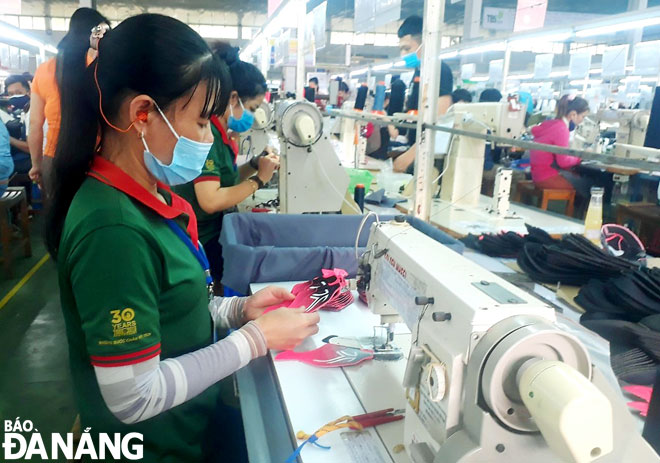 Currently, many workers employed by Da Nang-based enterprises are from other Vietnamese localities. Workers at the Da Nang Huu Nghi Trading - Production JSC are seen during working hours. (Photo: THANH VAN)
Demand exceeds supply
According to recent statistics released by the Department of Labour, Invalids and Social Affairs, since 2015, the labour supply for Da Nang has changed positively, with an average annual increase of 4 - 4.2%.
The city houses a system of about 70 vocational training schools, annually capable of admitting a total of over 50,000 trainees, and all of them can supply the labour market with 15,000 to 20,000 skilled workers each year.
In addition, each year, there are about 5,000 workers completing their short-term training and re-training courses. Thanks to this, the annual rate of trained labour in the city reaches 55%, which is considered quite high as compared to the national average of 51%.
Labour supply has improved markedly and at such high level, but the city's labour market in the city has still fallen into a highly concerning trouble of facing insufficient manpower supplies.
In recent years, labour recruitment activities in the city such as job fairs and festivals have been held periodically with the participation of many recruiters, but many of them couldnot recruit enough already-trained workers due to quite limited numbers of job seekers.
For instance, 106 enterprises participating in a job fair on April 2 recruited a combined total of only 131 workers, far below their initially-set target of 3,310 employees.
Looking forward to the labour forces outside the city
Mr Huynh Van Thanh, Deputy Director of Ha Noi- headquartered Hoa Ban Trang Co.,Ltd said in anxiety, "As expected, in early July 2021, our company will open its branch in Da Nang, trading in construction materials such as environmentally friendly roofing sheets, soundproof partitions, thermal insulation and chemicals. We plan to hire 200 marketing staffers and 10 construction technicians. However, we were unable to recruit enough employees right in Da Nang, and we must seek human resources in the neighbouring provinces of Quang Nam and Thua Thien Hue".
In his perspective on the current labour shortage situation, Mr Nguyen Thanh Diep, Deputy Director of the Da Namg Job Service Centre, affirmed that the majority of workers at businesses hail from Nghe An, Thanh Hoa, Quang Binh, Quang Tri, Quang Nam, Quang Ngai and other localities in the Central Highlands.
Particularly in Da Nang, the majority of students after their graduation from senior high school often hope to seek berths in tertiary establishments at any cost, leaving vocational schools struggling to attract enough students to operate. Therefore, the local labour supply is still quite limited.
Mr Vo Van Tien, Head of the Department of Employment-Labour Safety under the municipal Department of Labour, Invalids and Social Affairs explained that young people residing in Da Nang usually prefer working in a more dynamic environment with flexible time to 'adhering' to strict regulations set by businesses. Therefore, it is common to see them pay less attention to job sessions and fairs.
Besides, the young tend to be self-employed in the freelance form if they are financially 'comfortable', star up with their own small-scale businesses or choose such jobs as masons, electricians and machine repairers.
For the time being, there are about 75,000 workers in the Da Nang Hi-Tech Park and industrial zones across the city, of whom over 45,000 are from other nationwide localities.
To address this matter, in the coming time, local businesses are forced to expand their recruitment plans into other localities in Central Viet Nam, instead of heavily rely on the Da Nang labour force.
Reporting by THANH VAN – Translating by A.T
.