Da Nang seeks measures to improve PCI and PAPI indexes
April 23, 2021, 15:54 [GMT+7]
Viet Nam Provincial Competitiveness Index (PCI) and Viet Nam Provincial Governance and Public Administration Performance Index (PAPI) 2020 rankings were publicly released in mid –April. Da Nang is one of the top five Vietnamese localities across the whole Viet Nam, coming in at 5th, behind Quang Ninh, Dong Thap, Long An and Binh Duong in the PCI ranking, whilst it slipped in the PAPI ranking, naming among low performers.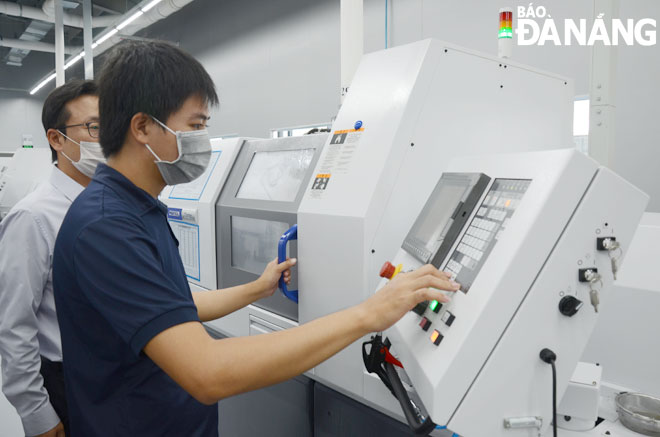 Boosting administrative reform and IT application is amongst effective solutions to contribute to improving PCI. Here is a scene of production activities at Vina ICT Company Limited, Hi-tech Park, Hoa Lien Commune, Hoa Vang District. Photo: M.QUE
The possibility of COVID-19 affecting the PAPI scores
API consists of 8 dimensions, and 6 out of 8 dimensions are basic ones, namely citizens' participation at grass-roots level, transparency, vertical accountability, control of corruption, public administrative procedures, and public service delivery. In addition, 2 new dimensions were included in PAPI 2019, namely environmental governance and e-governance.
Da Nang achieved 4.5 out of 10 points in the rankings of public participation at grass-roots Levels, 5.04 for transparency, 4.6 for vertical accountability, 6.69 for the control of corruption, 7.34 for public administrative procedures, 7.6 for public service delivery, 3.14 for environmental governance, and 3.6 for e-governance.
According to local experts, 2020 was a challenging year due to the COVID-19 impact and successive natural disasters in Central Region. Da Nang's low performance in the category of public participation at grass-roots levels could be partly attributed to the fact that the delays in the construction of some new public construction projects as a result of the complicated pandemic. Simply put, local citizens did not have the chance to give constructive recommendations and feedback to the local authorities on issues relating to these projects.
Mr Huynh Huy Hoa, Director of the Da Nang Institute for Socio-Economic Development, said, it was surprising that, in the 2020 rankings, the city saw a sharp decline in the 'responding through the portal' score, which belongs to e-governance, as compared to 2019.
Meanwhile, in 2020, the city has actively promoted around-the-clock interaction with local citizens through Switchboard 1022, and such highly popular social networks as Facebook, Zalo and Chatbot. Therefore, the Institute will identify specific reasons for the low public satisfactions, whilst the possibility of slow message replies, chatbot delivering no clear answers and other issues will be re-checked strictly.
"The Institute may propose organising a workshop which will aim to analyse and find ways to improve PAPI scores in the coming time with a progressive perspective, hereby supporting the local administrative reform efforts in a bid to meet the real needs of the public", affirmed Hoa.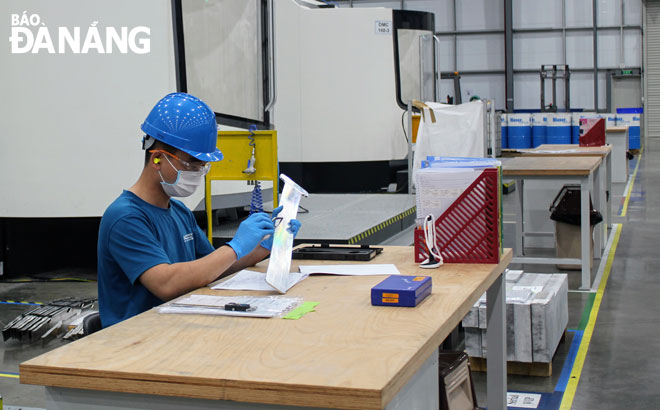 The business community highly lauds Da Nang government's efforts in administrative reform and IT application in public services. Employees are seen working at the Universal Alloy Corporation Viet Nam Company Limited, in the Da Nang Hi-Tech Park. Photo: P. LAN
Many advantages for enhancing PCI performances
The overall PCI index score comprises ten subindices, namely market entry costs, land access, transparency, time costs, informal charges, equitable competitive environment, proactive leadership, business support services, labour training, and legal institutions, on a 10-point scale each, all of which reflect economic governance areas that affect private sector development.
With an overall score of 70.12/100, Da Nang retained its position in fifth place for the third year running, naming among excellent performers in the 2020 PCI rankings.
Most notably, Da Nang topped the 2020 PCI rankings for the central coastal region, and it was followed by Quang Nam Province with 65.72/100.
Amongst the 10 sub-indices in the PCI rankings, Da Nang made remarkable improvements in market entry costs and informal charges which are the two sub-indices that Da Nang has achieved the highest scores since 2017.
In addition, Da Nang has received highest score for time costs, equitable competitive environment, and legal institutions since 2006.
Mr Phan Hai, General Director of the city-based BQ Production and Trade Co., Ltd. said that Da Nang will soon improve its low indexes in the 2020 PCI ranking as it boasts a very good administrative foundation and a abundance of public services.
In order to improve the indicator of proactive leadership in the coming time, Hai suggested organising meetings boasting a specific theme.
For example, the leaders of the municipal departments of Customs, and Industry and Trade will be invited to attend in person a meeting themed 'Import and Export'. Doing so will create favourable conditions for businesses to contact the authorities, increase the indicators of business support or dynamism.
According to Mr Ho Anh Tuan, Deputy Director of the Da Nang branch of the Viet Nam Chamber of Commerce and Industry (VCCI), the sub-indices of market entry costs, time costs, informal charges and labour training are the bright spots of the Da Nang business environment.
In order to improve such indices such as business support services, Tuan underlined a need for the municipal authorities to take more solutions and policies to support businesses to overcome financial difficulties, and especially facilitate them to effectively access support policies adopted the national and municipal governments.
Reporting by PHONG LAN, MAI QUE – Translating by A.T
.