Da Nang applies COVID-19 prevention measures to flight passengers on newly-resumed domestic routes
October 22, 2021, 16:55 [GMT+7]
The Da Nang People's Committee has issued an official dispatch on the application of a number of safety measures against COVID-19 for passengers on flights arriving at the Da Nang International Airport in the coming days.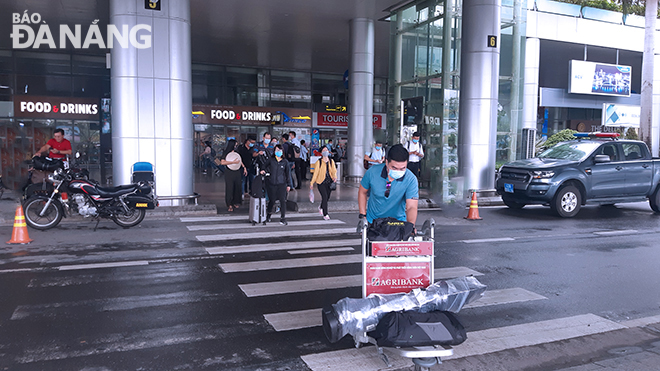 Passengers make untruthful medical declarations shall take accountability and may be criminally prosecuted. Photo: THANH LAN
In particular, airlines are required to ask their passengers to make honest medical declarations, especially the departure and arrival terminals. If their declarations are not truthful, they shall take accountability and may be criminally prosecuted.
Air tickets shall not sold to citizens who fail to meet the conditions prescribed by the Ministry of Transport.
Any passengers who have not tested negative for SARS-CoV-2 within 3 days before departure must undergo paid rapid antigen tests right at the Da Nang International Airport in line with the regulations of the Ministry of Transport.
Besides making medical declarations, they must have their body temperatures measured at domestic terminals.
Competent forces must coordinate with local healthcare authorities to make classifications of air returnees hailing from other localities at the airport according to pandemic-stricken/ virus-free localities, full vaccination or not so as to apply proper medical quarantine measures according to the regulations.
Heed should be paid to detecting and handle passengers who do not return to their places of residence as registered or commit acts of violating the COVID-19 prevention and control regulations.
As per request of the Da Nang administration, all arrivals in Da Nang who have received the full 2-dose course of COVID19 vaccines or have recovered from COVID-19 from
Pandemic-stricken areas or localities undergoing social distancing according to Directives No. 15 and 16, and under-lockdown, severe-risk and high-risk locations must be self-quarantined at home/ places of residence for 14 days and test for the virus 4 times.
For people who come from coronavirus-stricken localities but have yet to be fully vaccinated shall stay at the city's designated centralised quarantine establishments for 14 days and undergo 4 COVID-19 tests.
It is known that the Da Nang government will propose the Vietnamese Ministry of Transport to make adjustments and supplements to the plan for resuming the trial operations of domestic routes in order to make it match the actual situation.
Reporting by THANH LAN – Translating by ANH THU
.