Wet markets' attempts to ensure business stability and pandemic prevention
October 19, 2021, 16:57 [GMT+7]
Since early October 2021, all three wet markets in Lien Chieu District, namely Hoa Khanh, Hoa My and Nam O, have reopened as local residents have adjusted to a new normal. The district's Management Board of Markets has required all stallholders to absolutely comply with the city's pandemic prevention and control regulations to achieve a dual goal of keeping themselves out of the COVID-19 attack and ensuring business stability.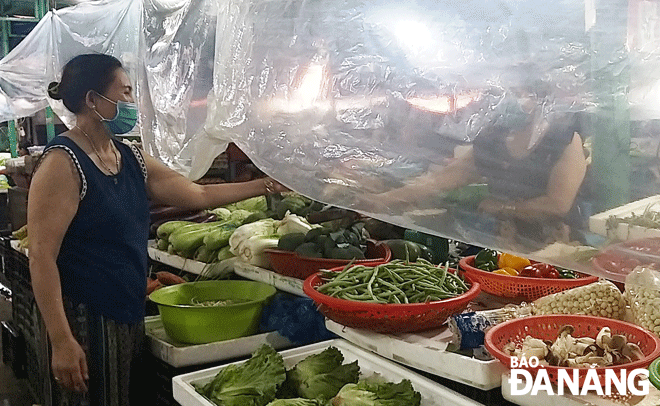 Three main wet markets in Lien Chieu District have reopened since the beginning of October, with a relatively full range of essential items and an abundant amount of goods. In photo: A stall selling vegetables and tubers at the Hoa Khanh Market.
Mr. Nguyen Van Ha, Deputy Head of the Lien Chieu District Management Board of Markets, remarked, since October 16, all the wet markets in the district have their operations fully resumed, with indoor service being allowed.
"To ensure the pandemic prevention and control, stallholders must strictly practice the 5K recommendations of the Vietnamese Health Ministry, and have received at least one dose of a COVID-19 vaccine at least 14 days or have recovered from COVID-19 in the past 6 months. In addition, they are required to make commitments to seriously comply with the city's COVID-19 prevention and control regulations, and ensure food hygiene and safety" added Mr. Ha.
As observed by our reporter, trading activities, and the number of people going in/out of Lien Chieu District-based wet markets are all closely monitored.
Specifically, the three wet markets have separate entry and exit points, and carry out regular deep cleaning and disinfection. Guards are deployed to these venues to tighten checks on patrons at entrance gates to measure their body temperature and scan QR codes of medical declarations.
Also, stallholders are required to wear face masks and face shields, whilst nylon sheets around their stalls are installed to avoid direct contact with their customers.
Meanwhile, market-goers must make medical declarations on the national PC-COVID app, and regularly use QR codes when visiting the aforementioned venues (QR code entry cards are no longer used). They are asked to disinfect their hands and keep a safe distance from others.
While quickly choosing fresh vegetables and tubers at a market stall in Hoa Khanh Market, Ms. Nguyen Thi Phuong, residing in Hoa Khanh Bac Ward, said excitedly the reopening of such wet markets made it easier and more convenient for local residents to choose what they like.
Reporting by DAC MANH - Translating by M.D
.