Combating commercial fraud, stabilising market at year- end
November 29, 2021, 17:11 [GMT+7]
New Year and Lunar New Year (Tet) usually witness a growing demand for shopping and goods consumption. Some fraudsters, therefore, take advantage of this consumption peak period to produce and trade a large volume of fake, counterfeit and smuggled goods. Currently, functional sectors in Da Nang have strengthened their joint coordination and actively implemented many more effective solutions to tighten supervision and the timely handling of such violations.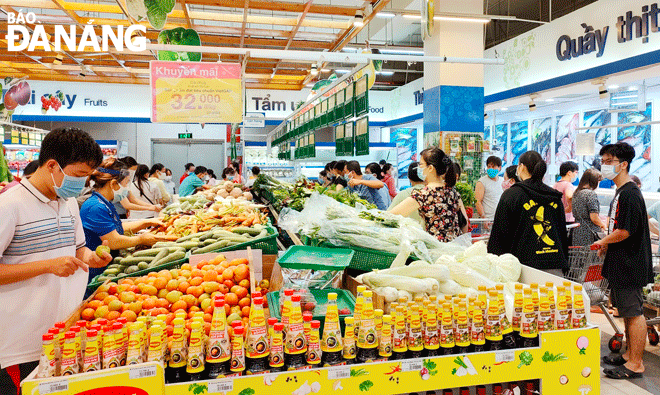 Functional forces will focus on controlling the goods market on the occasion of the 2022 Lunar New Year. People are seen picking up goods at the Co.opmart Da Nang, Thanh Khe District. Photo: QUYNH TRANG
Keeping the market stable at year-end
According to a recent survey, the purchasing power in the market at year-end is on an uptrend. As observed at traditional markets, the number of traders resumed their operations there after a long hiatus due to COVID-19 now accounts for 70-90%. The source of goods at big markets such as Con and Dong Da is quite abundant, ready to meet the growing demand.
According to Nguyen Tan Hai, Head of the Da Nang Food Safety Management Board, his unit is focusing on checking the quality and food safety of the main ingredients and additives put into production, processing and trading by establishments.
At the same time, attention is also paid to checking the stamps, labels and packaging of traditional items with a high demand for consumption during the traditional Tet holiday such as fresh food, fruit and vegetables, wine, beer, soft drinks, cakes, jams and candies.
In addition to the dissemination of laws, that production establishments and family-run businesses are asked by law enforcement agencies to sign commitments not to trade in contraband or poor-quality goods is also a solution needing to be focused.
As the time gets closer to the Lunar New Year of the Tiger in 2022, amid the fact that manufacturers and family-run businesses will continuously 'release' a large volume of goods to the market, the price may fluctuate, not to mention this is also the time when fake and smuggled goods illegally transported by truck from the North to the South.
For the time being, the Da Nang Department of Industry and Trade has asked local goods suppliers and distributors to map out a plan to implement the market stabilization programme to ensure supply – demand linkages, market stability and social welfare, thereby meeting the local demand for essential goods in the context of complicated developments of COVID-19.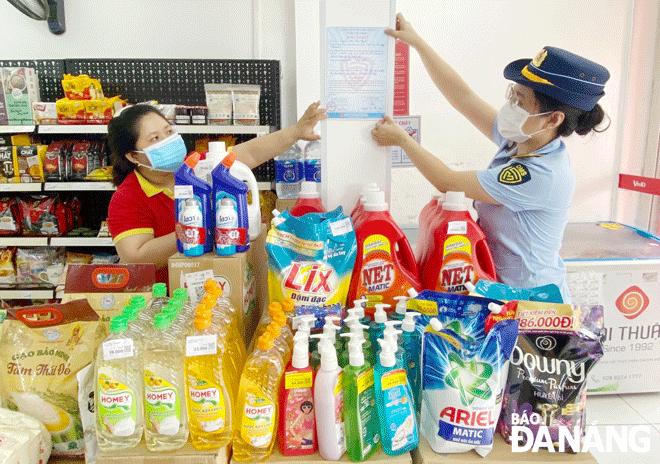 The market management force requires shops and sales points to commit not to trade in fake and counterfeit goods in Son Tra District. Photo: QUYNH TRANG
Intensifying checks and control over the market
According to a recent report made by functional local bodies, banned goods (plant cannabis, narcotic drugs, psychotropic drugs, tobacco), smuggled goods (mainly alcohol), counterfeit and fake goods (clothes, shoes, alcohol, confectionery, consumer goods) are usually illegally transported via roadways, waterways and airways.
Especially at the Da Nang seaport, many goods assigned in the Green Channel during customs declarations are found to be prohibited and contraband ones through surprise inspections.
Typically, at the end of 2020, relevant local agencies discovered 21 containers of smuggled goods worth VND50 billion from abroad to the Tien Sa Port.
Tran Phuoc Tri, the Acting Director of the Da Nang Market Management Bureau said that fraudsters have been using many sophisticated methods and tricks to smuggle goods into the city. The goods are usually gathered, processed, packaged, labeled with famous brands of the U.S., Japan and Europe in order to deceive customers.
In addition, the trade in goods using fake imported stamps, along with printing, packaging and labelling fake labels is rampant in large scale.
The local authorities have also detected and handled many cases of manufacturing and trading in poor-quality goods as well as forging labels, packages, trade names and the brands of reputable domestic enterprises have negatively affected consumers and legitimate businesses.
Recently, counterfeit or contraband products are on sale on popular e-commerce websites at unusually low prices whilst the delivery of goods is made via courier services, which made tracking become a tougher task.
"From now until the end of 2021, the Da Nang Market Management Bureau will strengthen the handling of trading in smuggled and counterfeit goods food of unknown origin, and infringing on intellectual property rights. Focus will be on targeting such key items as tobacco, alcohol, food and medical equipment and functional food. Besides, such illegal acts as speculation, hoarding, unreasonably raising the prices of essential items having a great impact on the socio-economic during holidays, Tet or pandemic breakout will be levied with hefty fines", said Mr. Tran Phuoc Tri.
Reporting by QUYNH TRANG – Translating by A. THU
.