Fully tapping into strengths of community-based eco-tourism
November 23, 2021, 17:37 [GMT+7]
Exploiting tourism in combination with preserving community values, promoting traditional culture, and developing attractive ecotourism spots and unique tourism products for tourists to experience when coming to Da Nang are tourism development targets set by Hoa Vang District for the 2021-2025 period.
Community-based tourism is a type of tourism where local communities invite tourists into their communities, giving them insight into their culture and daily lives. It is a form of sustainable tourism that allows travellers to connect closely to the local community they visit. This type of tourism is increasingly becoming popular in many localities nationwide and worldwide, thereby bringing practical effects to the residential community.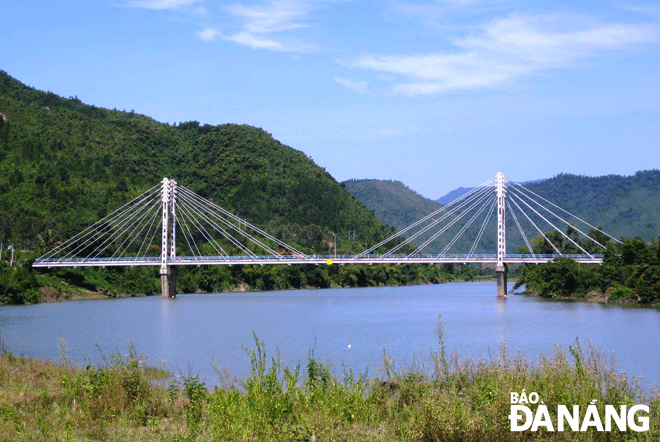 The natural ecological sites along the Cu De River in Hoa Vang District are inviting to both domestic and foreign visitors. Photo: THANH TINH
Restoring traditional culture
As a mountainous commune located in the northwest of Hoa Vang District, Hoa Bac currently has two villages of the Co Tu ethnic minority groups namely Ta Lang and Gian Bi.
With the unique traditional culture of ethnic minorities and pristine natural landscapes with many rivers, streams, ravines and rapids, the commune has, over the past years, focused on developing more specific tourism products bearing the characteristics of the mountainous area as well as Co Tu community culture.
In late 2016, the Hoa Bac Commune People's Committee started building its first community-based eco-tourism model under the sponsorship of the Global Environment Fund (GEF).
Grasping a growing demand from both domestic and foreign visitors for learning about the cultural identity of Co Tu people, in 2018, 8 tourism service groups were established in Ta Lang and Gian Bi villages to serve tourists, namely gongs, arts, food, stream trekking, knitting, singing, brocade weaving, and introductory commentaries, with the participation is 62 Co Tu families.
In order to improve tourism skills for local residents, many training courses on enhancing the capacity for hospitality workers and on guiding how to live hygienically and protect the environment for Co Tu groups have been organised. Also, basic communication English classes, and tour guide courses, have been opened for Ta Lang and Gian Bi villagers.
After more than 3 years of investments, Hoa Bac Commune has a new facelift. Along with that, the establishment of homestays in people's houses helps to thrive the commune's tourism day by day.
Mr. Ho Phu Thanh, Vice Chairman of the Hoa Bac Commune People's Committee expressed "Perhaps the greatest success in developing community eco-tourism products in Hoa Bac Commune is that we have created closer connection between Co Tu people to restore and develop local traditional crafts".
He suggested that more solutions should be identified in the time to come in a bid to promote the commune's tourism images to visitors, as well as train human resources for the local hospitality sector.
Special attention should be paid to supporting trademark registrations for some traditional products and pharmaceuticals in order to bring them closer to the market.
In addition to restoring traditional craft villages such as brocade weaving, wood carving, and bamboo and rattan knitting, Hoa Bac Commune has also promoted the restoration of traditional cultural festivals and events such as celebrating new crops, praying for rain, singing Ly arts form, erecting poles, and 'Cong Chieng' (Gong) and 'tung tung da da' dance.
Mr Truong Nhu Huy who is in charge of Culture and Society Office of the Hoa Bac Commune People's Committee, said: "Now, visitors to Hoa Bac Commune will have the opportunity to take photos with Co Tu people's traditional costumes which will be available for hire, watch local artisans weave cloths or enjoy the local cuisine cooked by the Co Tu people".
He highlighted the vital role of the tourism service groups set up in Ta Lang and Gian Bi villages in not only creating many attractive community eco-tourism sites but also restoring the traditional features of the people that are in danger of disappearing.
Building an inviting destination
With a natural area accounting for 75% of the city's land area, Hoa Vang District has great potential for the development of community-based eco-tourism.
In late 2020, Hoa Vang District gave a green light for a community-based tourism development project for the 2021-2025 period with an orientation to 2030.
Under the project, by 2030, 5 clusters of community-based tourist attractions will be established in the district.
In particular, the Ta Lang - Gian Bi community-based tourism cluster in Hoa Bac Commune will be developed first, followed by the Tuy Loan - Thai Lai cluster in Hoa Phong and Hoa Nhon communes, and Trung Nghia - Dong Son - Hoa Trung cluster in Hoa Ninh Commune.
Then, community-based tourism clusters with 20-25 spots for homestay accommodation, 3-5 spots for picnics, and others will be developed across Hoa Vang District.
At the same time, the traditional craft of brocade weaving will be restored.
Reporting by THANH TINH - Translating by M.DUNG
.