Preparing Da Nang tourism businesses for international visitors
November 19, 2021, 18:12 [GMT+7]
Da Nang businesses are ramping up their efforts to prepare themselves for international visitors. The city expects to welcome foreign guests from such countries as South Korea, Japan along with overseas Vietnamese around the world from November 2021 until February 2022.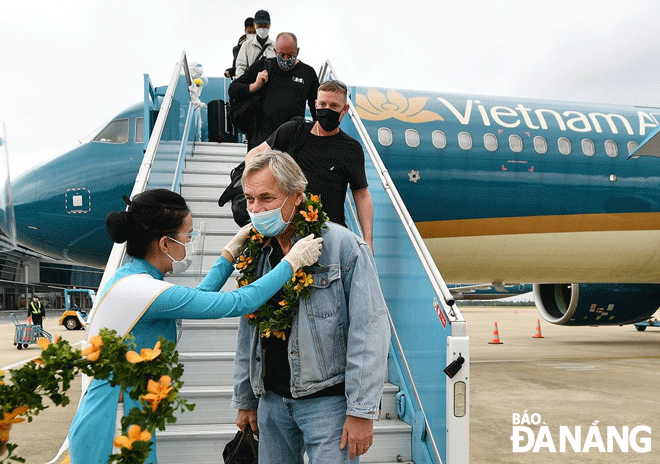 Da Nang welcomed its first batch of international visitors at the Da Nang International Airport in the afternoon of November 17 under the national government's pilot scheme. Photo: THU HA
Welcoming back international guests safely
With November seeing the five localities namely Da Nang, Quang Ninh, Quang Nam, Khanh Hoa, Kien Giang reopen to fully vaccinated international travellers under Viet Nam's national government's pilot scheme, Da Nang is working on a slew of exciting, new initiatives to welcome them back.
Da Nang is ready to welcome fully vaccinated foreign visitors, including returning overseas Vietnamese to enter the city by air with the adoption of quarantine, testing and medical intervention requirements in line with the current direction from the national government from 1 November, 2021. If foreign guests test positive for COVID-19 or they have been in contact with a confirmed case, they must pay for travel expenses that are related to their registered Da Nang tours, including treatment and isolation costs. Foreign guests must make a commitment to take the licensed and self-contained package tours in Da Nang.
Strict observance of COVID-19 guidelines and other related regulations recommended by national and municipal governments and health bodies is compulsory for international guests while visiting Da Nang.
Da Nang is eagerly awaiting the return of international visitors, and it has made substantial strides in safety and sustainability, including adapting food service and accommodation establishments along with safer outdoor and indoor activities and transport services.
Upon arrival in Da Nang, foreign guests will be picked up at the airport and transported to hotels by travel agencies. You will undergo COVID-19 testing on the first day of your arrival. If you test positive for the virus, you will be hospitalized for treatment and your treatment costs will be covered by your insurance companies or tour operators.
If tests on foreign guests come back negative for the virus, they will take part in their registered tours in Da Nang, and will be required to self-monitor their health within the first 7 days of arrival. In addition, they have to follow the recommended precautionary measures to protect themselves and others during their stay in Da Nang. Moreover, they should test themselves for COVID-19 with self-test kits every 3 days within the first 7 days of arrival, and report their test results to their hotel staff for monitoring.
If foreign guests register for a travel program in Viet Nam for over 7 days, they will get a RT-PRC test from local health authorities on their seventh day of arrival. If tests on them come back negative for the virus, foreign guests can continue to visit other destinations among the five localities that have been given green light by the national government in accordance with their registered tours in Viet Nam. If you wish to visit relatives at locations that are not included in your registered tours, you must register with authorities in these destinations to monitor your health.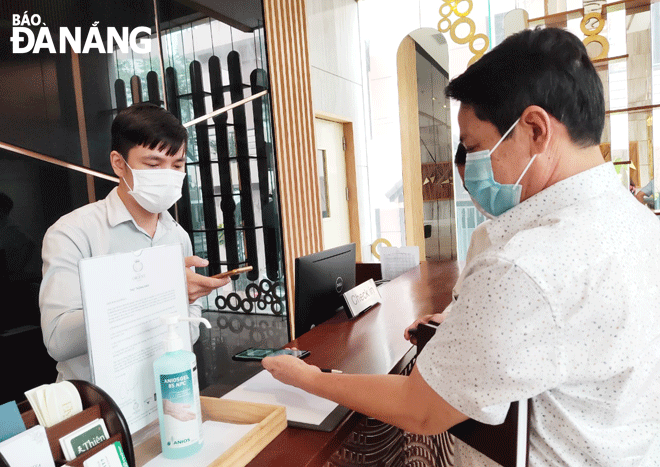 Many tourism businesses are preparing themselves to be ready to welcome foreign guests after they are authorized by the Da Nang government. In the photo: A hotel receptionist of a hotel located on Dong Da Street, Hai Chau District is checking QR code of a guest before attending an event inside the hotel. Photo: THU HA
Tourism businesses are preparing themselves for international guests
Da Nang Tourism Association General Secretary Ho Thanh Tu said if a foreign guest tests positive for COVID-19, he or she will be admitted to hospital for treatment and will enjoy benefits from a minimum insurance package worth US$ 50,000 based on entry conditions for international guests. However, tourism businesses are waiting for specific guidance for isolating the remaining members of visitor group that has one person infected with COVID-19 from the municipal administration.
The approved five Vietnamese localities, including Da Nang, now welcome quarantine-free travel for international tourists. However, it is also necessary to exempt or reduce visa fees for foreign nationals who want to travel to Viet Nam in an attempt to attract more international guests to the country, Mr Tu remarked.
Vietnam TravelMart Joint Stock Company Director General Nguyen Nhu Nam said that the company is gearing up to develop attractive programs to welcome foreign guests. The company has worked with its partners and service providers to be ready to welcome international visitors.
Mr Nam said that the company and its partners along with service providers have made thorough preparation for return of international tourists in Da Nang in order to provide the best possible quality of tourism services for them to enhance their visitor experience.
Da Nang Department of Tourism Deputy Director Nguyen Xuan Binh said that the Department will conduct appraisals and the selection process for service providers to serve international tourists before November 30, and will announce the list of authorized providers as soon as possible.
Travel agencies will introduce tours and combo deals offered by authorized service to their international guests. Combo tours are expected to include a golf vacation package that is a great combination of golf and accommodation, and holiday entertainment tours.
In addition, the department plans to organize training courses on professional skills, customer service skills, infection prevention and control measures, cleaning and disinfection activities, the incident management process. The heed is paid on developing scenarios for welcoming foreign guests and conducting exercises and drills for welcoming them. In addition, the health agency is implementing a safe and effective COVID-19 vaccination program for tourism workers in the city in order to make sure that all of them are fully vaccinated within November.
Reporting by THU HA – Translating by H.L
.