Da Nang IPs take urgent action to curb COVID spread
December 10, 2021, 17:49 [GMT+7]
The Authority of the Da Nang Hi-Tech Park and Industrial Parks (IPs) is working with relevant agencies to take urgent action to address rising COVID-19 case numbers in IPs.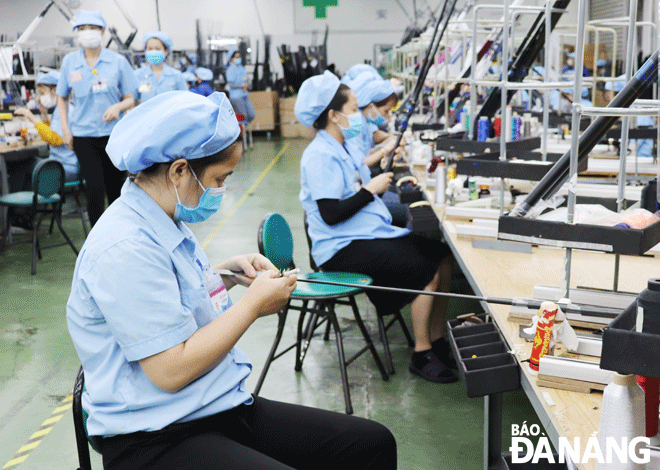 Companies with large numbers of employees have already developed action plan to respond to COVID-19 cases. Picture is taken at the Daiwa Vietnam Company Limited in Hoa Khanh IP, Lien Chieu District. Photo: K. HOA
Swift and effective action taken to tackle COVID-19 in Hoa Khanh IP
According to the Da Nang Industrial Zone Infrastructure Exploitation and Development Company, the Authority of the Hoa Khanh IP and the Da Nang Seafood Service IP, the Hoa Khanh IP has seen a dramatic rise in new infections and the Matrix Vietnam Company Limited accounted for the highest number of cases with 113 that tested positive on a rapid antigen test. However, 101 cases of these cases were confirmed positive under the PCR test results.
Mr. Nguyen Trong Cuong, the Director of the Da Nang Industrial Zone Infrastructure Exploitation and Development Company, said that, Matrix Vietnam Company agreed with local functional bodies to isolate and treat its COVID-19 patients in line with the city's regulations, as well as quarantine suspected cases and COVID-19 contacts in the workplace while waiting for their testing results. In addition, the company has adopted the 'stay-at-work' solution in a bid to prevent the spread of the virus.
The Authority of the Hoa Khanh IP will conduct onsite visit to this company on a daily basis to make sure that it is complying with the city's COVID-19 guidelines. The company is still operating with proper precautions and production options to maintain a safe and healthy workplace for its employees. COVID-19 testing will be conducted for the company's employees every 3 days to early detect active cases to timely isolate and provide prompt treatment to them in an attempt to suppress the virus.
The Lien Chieu District Medical Centre will work with local relevant units to conduct thorough contact tracing of confirmed cases. In addition, police and military personnel, border guards, militia and others will join forces with local health agency to support contact tracing efforts as well as support the district's efforts in its battle against the deadly disease.
The Da Nang Industrial Zone Infrastructure Exploitation and Development Company is urging companies operating in IPs to stay at high alert against COVID-19, and continue to follow COVID-19 guidelines to provide a safe workplace for their employees.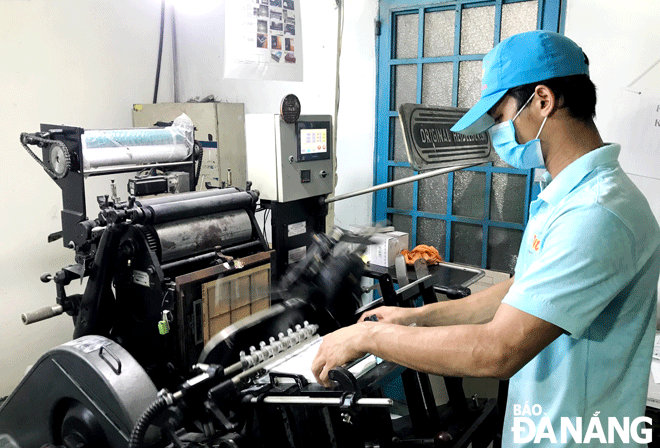 Manufacturing companies are taking proactive measures to control the spread of the virus. Picture is taken at the Trung Khoa Company Limited in the Da Nang IP, Son Tra District. Photo: M.QUE
Raising awareness of infection control policies
Since October 16, the Hoa Cam IP has only recorded 2 cases of COVID-19 that have been identified in Fujikura Automotive Vietnam Company Limited. However, the Authority of this IP and all businesses here remain on high alert following a rise in infections in other local IPs. Such large companies as Fujikura Automotive Vietnam Company Limited, and Foster Electronics Company Limited have established their own rapid response teams to respond COVID-19 cases.
Mr. Bui Duc Loi, the Deputy Director of Hoa Cam Industrial Park Investment Joint Stock Company, said that the agency regularly works with the authorities in Cam Le District and local health agency to carry a COVID-19 risk assessment in manufacturing companies, as well as enhance their compliance monitoring in these venues. The results of on-site visits show that most of the companies operating in Hoa Cam IP are sticking to the recommended precautionary measures such as checking body temperature of their employees, asking them to wear face masks and disinfect their hands before entering their workplace. Most workers in Hoa Cam IP have been fully vaccinated against COVID-19.
Apart from tighten anti-virus measures in the workplace, manufacturing businesses also focus on identifying and quarantining suspected cases, as well as keeping a close watch on their employees returning to Da Nang from COVID-19 affected areas.
Ms. Nguyen Thi Thinh, the Director of Trung Khoa Company Limited said that all employees of the company have received both doses of a COVID-19 vaccine, and company has only recruited new fully-vaccinated employees to ensure timely delivery of its contract products at the end of the year despite the shortage of workers.
Ms. Mai Thi Thanh Huong, the Head of the Personnel Department of Sinaran Vietnam Company Limited said that the company conducts effective periodic risk assessments for COVID-19, and creates an action plan to deal with future cases.
The Authority of the Da Nang Hi-Tech Park and Industrial Parks is working with relevant units to identify accurately high-risk areas related to confirmed cases, ramp up their efforts to test and isolate COVID-19 contacts in a bid to break the chains of transmission. The heed is paid on imposing a blockade on hotspots linked to COVID-19 cases on a reasonable basis in addition to conducting periodic COVID-19 testing for workers in IPs at regular intervals to allow positive cases caught in a bid to contain the spread of the virus.
Reporting by M.QUE – K.HOA – T.HA – Translating by H.L
.