Cool things sell like hot cakes as scorching weather forecasted to persist in Da Nang
June 06, 2023, 11:30 [GMT+7]
Da Nang, like other places in the country, is experiencing a heat wave, with temperatures soaring. The baking weather has spurred many families to buy air-conditioning devices as a common way to push heat relief.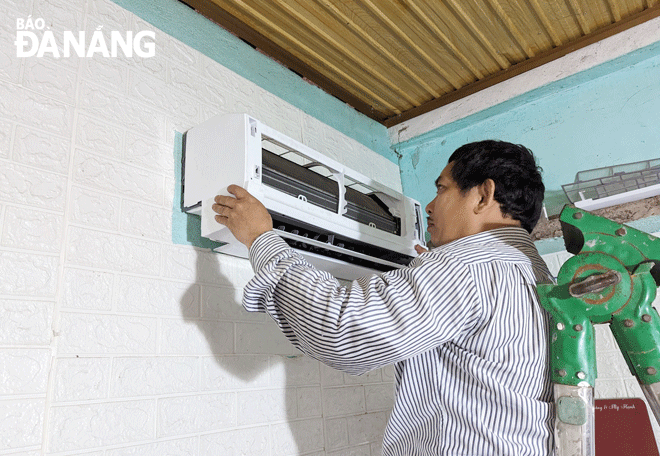 As demand rises, many stores and supermarkets specialising in providing refrigeration and heat-resistant products are actively working at full capacity to satisfy customers. Photo: CHIEN THANG
At this time, heat-resistant products are consumed quite strongly such as steam fans, air conditioners, refrigerators, air conditioning mats and cooling pads.
As observed at specialised stores and supermarkets, currently customers tend to choose mid-class refrigeration products that are moderately priced, energy-efficient and are equipped with an inverter system.
Specifically, the price of steam fans ranges from VND1,500,000 to nearly VND 8,000,000/product whilst air conditioners with a capacity of 9,000BTU cost 4,500,000 - VND14,000,000 /set and from VND10,000,000 - VND18,000,000 /set with a capacity of 12,000 BTU depending on the manufacturer and whether or not an inverter is equipped, and nebulizer, air purifier are priced at VND 500,000 - more than VND20,000,000/product. Some of the electronics shops across the city have reported a record-breaking surge in the sales of air-conditioners.
According to Mr. Nguyen Le Tuan Tuong, Head of MediaMart Supermarket Centre, the Da Nang branch of MediaMart Viet Nam JSC, in May, the number of customers coming to shop increased sharply compared to previous months, with the purchase power was equivalent to the same period last year.
Besides air conditioners, other cooling products such as electric fans and air-conditioning fans are also sold in a variety of stores, ranging from designs, models to product quality with prices at VND300,000 - more than VND1,000,000 for each electric fan and from VND1,500,000 - VND5,000,000 for an air conditioning fan.
Mr. Le Tien Nham, the owner of Suong Tuyet bedding shop in Chinh Gian Ward, Thanh Khe District said that, during this heat wave, his store has imported many new items of interest to customers such as rattan, bamboo and air conditioning mats, and cooling cushions, all priced from VND300,000 - VND1,500,000/apiece.
In addition, the store has imported a number of new heat-resistant fashion products with special uses from froreign countries such as UV protection and insulation with higher prices than traditional ones. Specifically, a pair of UV-resistant gloves costs at VND400,000 - VND500,000/pair, UV-resistant eyeglasses at VND300,000 - VND900,000/piece, a sun protection suit VND1,000,000 - VND 3,000,000/set, along with many products with prices up to millions of VND.
Currently, the electronics and refrigeration market always has many new products launched, but customers need to learn carefully before taking any purchase decision. According to Mr. Huynh The Thich, the Deputy Director of Viettronimex Electronics Supermarket under the Da Nang Electronics and Informatics JSC, whilst many units are implementing a policy of discounting prices from 20 - 50%, customers should be careful about information, warranty, and material costs.
Mr. Nguyen Van Chung, the Da Nang Branch Manager of Mobile World JSC in Da Nang, recommends that customers before calling a repairman should see what mode the device is in and how the error light works and identify that whether strange sounds or water leaks are spotted or not...
Reporting by CHIEN THANG - Translating by A.THU
.