Da Nang takes initiative to foster event tourism
June 05, 2023, 11:31 [GMT+7]
Given the advantage of a good infrastructure system, diverse accommodation facilities and diversified tourist attractions, Da Nang is considered as one of the Vietnamese localities with the most favourable possible conditions to beef up event tourism. It is obvious that event tourism can bring a lot of money into the host community, making it a valuable contributor to the tourism economy.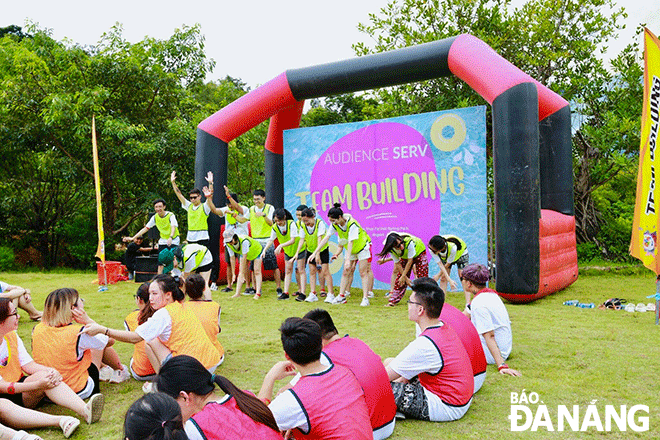 With the advantage of a good infrastructure system, diverse accommodation facilities and various tourist spots, Da Nang is considered as one of the localities with favourable conditions to develop event tourism.
Recently, the city has released preferential policies to attract more tourists in this tourism segment. Now, Da Nang is not only the destination of domestic MICE guests but it also attracts many international high-class guests who choose Da Nang for their conferences extravagant
Promising potential tourism source market
It is interesting that Da Nang is on Indian billionaires' radar for exotic weddings. Right from the beginning of the Year of the Cat 2023, Da Nang was pleased to welcome the Indian billionaire family who arriving in the city for the wedding event from January 25 to 29. It is known that about 350 guests, 100 event staff, chefs and more than 2 tonnes of materials, costumes and props were transported from India to Da Nang to prepare for the wedding ceremony.
According to Mr. Satish Ramnani, the Director of Veydaa Events, a pioneer in bringing Indian weddings to Da Nang, this city is often chosen by many Indian billionaires because the city boasts a luxurious accommodation infrastructure, along with a lot of potential to become an attractive wedding destination for Indian tourists.
In 2023, the company is planning two more weddings here. However, Da Nang needs to have more supportive and preferential policies for this segment so that Indian tourists can feel secure when organising wedding parties with many rituals and complexities in the supply process.
With the successful organisation of luxurious wedding parties, Da Nang is a new weeding destination chosen by Indian billionaires instead of such familiar places as Bali (Indonesia) and Phuket (Thailand). In 2022 alone, India was among the top 10 international tourist source markets for Da Nang, ranking fifth after South Korea, Thailand, the US and Malaysia with an estimated total arrivals of 39,359 tourists, accounting for 4.66% of the total international visitors arriving in Da Nang.
Besides increasing the number of Indian visitors, this year's international MICE visitors also come from Malaysia, Taiwan (China), Spain and France. Especially, the city welcomed more than 350 Malaysian visitors came to Da Nang in March and more than 2,000 Indonesian ones in April.
in a perspective on favourable conditions to develop this tourist market, Mr. Ho Thanh Tu, Director of Vietadventure Travel Company Limited (Vietadventure) commented: "Da Nang has an international standard infrastructure system. The city also shows off more policies to support businesses in welcoming guests than other localities. This is an advantage to develop MICE customers.
However, currently, the MICE tourism market segment faces some difficulties due to the declining economic situation after the COVID-19. The system of services has increased, especially a hike in the price of airfares and limited tours".
In fact, the number of MICE visitors this year recorded a rise from the same period last year, but many travel businesses still face many obstacles when exploiting this tourism segment due to economic difficulties. Mr. Dinh Van Loc, Director of Viet Da Travel Company, said that at the end of April 2023, the company served 1,100 guests from the Long Chau pharmacy chain who came to Da Nang for travel experience, parties, shopping and teambuilding. These visitors required high-class accommodation and other attentive services like transportation by luxury car.
"Over the past time, the city has many support policies to attract MICE tourists though warm welcome ceremonies with gift giving, cultural performances. However, as compared with Asian countries, these supportive moves are still modest. In South Korea, there are even more advanced gift policies such as hotel incentives. Currently, the price of high-class hotel rooms in Da Nang is very high, especially at resorts. Therefore, in order to attract even more MICE tourists, it is highly necessary to boost cooperation with the national government, "said Mr. Loc.
Improve quality serving
In order to contribute to the restoration and development of tourism in the context that international visitors to Da Nang are still few, especially exploiting the potential MICE market, the Da Nang People's Committee has issued a programme to support visitors who come to the city on business and working trips.
As reported by Mai Thi Thanh Hai, the Deputy Director of Da Nang Tourism Promotion Centre, for a domestic MICE delegation of 100 to 299 tourists is treated with a welcome ceremony featuring banners, decorations, congratulatory flowers, souvenir gifts and the participation of representatives of the municipal authorities. In addition, the city also supports in terms of communication and consulting services for event organisation.
A domestic delegation of 500 guests or more are welcome at the Da Nang International Airport with cultural performances.
In addition, at the end of the year, the city will organise to honour companies that bring MICE delegations to Da Nang by awarding medals and certificates of merit from leaders of the municipal People's Committee.
As for international MICE tourists, in addition to preferential policies applied to domestic ones, they are also supported with free testing upon exit at the airport at the request of the country of entry and free landtour support in Da Nang applied to survey teams.
In order to serve this fastidious guests well, not only travel agencies but hotels and resorts also diversify many types of services and improve product quality to serve them better.
Ms. Cao Xuan Tram, the Communications Director of Marketing Hyatt Regency Da Nang Resort & Spa, said that, since the beginning of the year until now, on average, Hyatt welcomed 7 MICE delegations from many countries around the world every month. The delegations' members attended meetings and explored local tourist spots and join community-based activities.
"In an effort to serve the needs of MICE guests well, the hotel always takes ways to enhance its products such as food services, bars, cafes, spas, conference rooms and seminars. However, the exploitation of the MICE tourism now faces some difficulties such as high domestic airfares, a still limited number of non-stop flights from prominent MICE markets such as Singapore, Hong Kong (China), Australia, Japan and China", said Ms. Cao Xuan Tram.
In this regard, Ms. Le Thi Bich Huong, Communications & Marketing Director of Nui Than Tai tourist area said that MICE tourists mainly book through travel agents. Recently, his tourist area welcomed more than 1,000 guests who came to Da Nang through bookings at Viettravel Quang Ngai company for attendances at conferences and seminars.
Given the fact that the Nui Than Tai site has regularly renewed its items and improved the quality of services, many travel companies have rented venues for teambuilding, galas, conferences and seminars there.
According to the Da Nang Tourism Promotion Centre, in the first 5 months of 2023, Da Nang welcomed 35 MICE international and 16 domestic delegations with a combine total of more than 17,500 people. Most international visitors came from markets such as India, Malaysia, Taiwan (China), Spain and France. In 2022, Da Nang welcomed 53 MICE delegations with a more than 30,000 visitors in total.
Reporting by DOAN HAO LUONG - Translating by A.THU
.