Many key Da Nang projects exceed progress targets to reach finish line
June 06, 2023, 18:15 [GMT+7]
In the first 5 months of 2023, the Da Nang investment and construction activities have recorded many positive changes. Many key projects and works achieved or even exceeded the initially-targeted work progress plan, thereby contributing to the more smooth disbursement of public investment capital.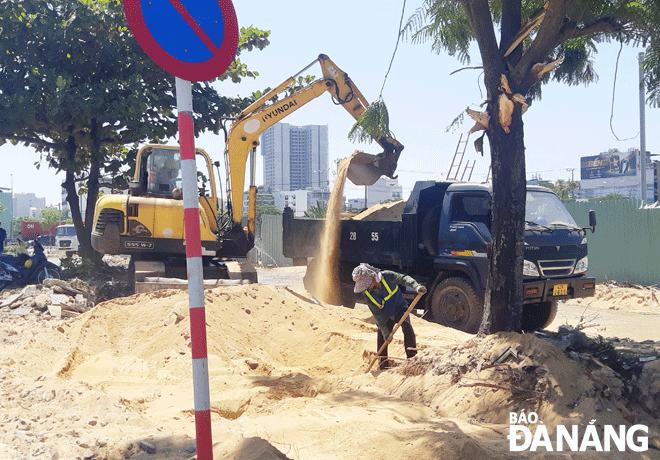 A scene of the construction site of improving Ngo Quyen - Ngu Hanh Son route. Photo: T.L
Under the direction of the Da Nang authorities, relevant agencies have, over the past time, regularly coordinated with construction units to accelerate the progress of the above projects across the city.
Accordingly, many projects have achieved quite high progress, such as the project of renovating Ngo Quyen and Ngu Hanh Son streets, the western ring road, the section from national highway 14B to Ho Chi Minh Road, improving the water environment in the eastern area of Son Tra District and the Cam Le industrial cluster's technical infrastructure project.
It is known that the technical infrastructure project of Cam Le industrial cluster in the namesake district, covers an area of 29 ha at a total investment of VND250 billion from the Da Nang budget.
The project was developed by the Le Vu JSC for site leveling. By the end of May 2023, the project's work implementation volume has been estimated at VND200 billion, equivalent to 80% of the total investment.
Similarly, on the construction site of the Ngo Quyen - Ngu Hanh Son road improvement project, bustling working vibe is recorded with construction units racing against time to complete the remaining work items before the National Day (September 2).
Mr. Nguyen Minh Huy, the Director of the Da Nang Management Board of Traffic Construction Investment Projects said, this project aims to ensure traffic safety on Ngo Quyen - Ngu Hanh route and at the same time strengthen the transport capacity serving the Tien Sa Port.
With the determination to exceed the schedule, this unit asked the construction contractor to mobilise machinery, equipment and people to make the best efforts to complete the work items.
As of the end of May, the project's work implementation volume has been estimated at over VND103 billion, equivalent to 54.5% of the total investment.
In a similar positive vein, other prominent projects such as the Centre for Neurosurgery, Trauma and Plastic Surgery at the Da Nang General Hospital, Phase 1 of the Thanh Khe District Medical Centre are nearing the finish line.
According to a report by the Da Nang Statistics Department, in May 2023, the investment capital disbursed from the State budget managed by localities for projects is estimated at nearly VND455.9 billion, an increase of 21.1% from the previous month and equivalent to the same period in 2022.
Reporting by THANH LAN - Translating by A.THU
.