Asia Park gaining in popularity
Published: January 08, 2016
Da Nang's Asia Park is becoming increasingly popular with visitors from both home and abroad. The theme park was designed by world-renowned American architect Bill Bensley who was named amongst the world's top 5 most famous architects for 4 consecutive years.
Developed by the Sun Group, the park showcases replicas of architectural building styles and landscapes typical of 9 Asian countries, plus numerous international-standard entertainment areas.
Since the start of this month, Asia Park is attracting even more visitors after its monorail system, the most modern of its kind in Viet Nam, was officially put into operation.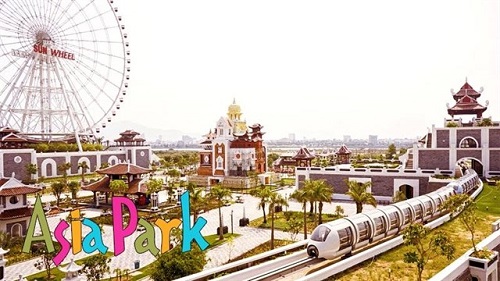 Asia Park's monorail and Sun Wheel (Photo: Internet)
Designed by the Intamin Transportation company from Switzerland, one of the world's leading suppliers of monorails, the new system is operated using eco-friendly renewable and clean energy technologies.
The monorail has 8 30m-long trains with 11 cabins on each, and it will be able to carry up to 2,000 visitors per hour. The monorail wends its way gently along its 1.8km-long line to provide a new experience for visitors to the park.
Currently, the system is attracting over 1,000 visitors per day and most of them are deeply impressed with the cabins' modern sound systems and the smooth operation of the monorail.
In addition to the new monorail, Asia Park already boasts the nation's largest indoor entertainment area and the Sun Wheel which is one of the 10 highest observation wheels in the world. Thanks to this, the venue is emerging as one of the city's most popular new attractions for both locals and visitors.
.