Spring Newspaper Festival on until 4 February
Published: February 02, 2016
The 2016 Spring Newspaper Festival, which has 'Welcome in the Spring, the Party and the New Rural Areas in Hoa Vang District' as its theme, opened at Da Nang's Hoa Vang District Administration Centre on Monday. The event will run until 4 February.
The opening ceremony was attended by the municipal Party Committee Deputy Secretary, Mr Vo Cong Tri, the People's Committee (PC) Vice Chairman, Mr Dang Viet Dung, and other city leaders.
Speaking at the ceremony, the Vice Chairman of the Viet Nam Journalists' Association and Chairman of the Da Nang Journalists' Association, Mr Mai Duc Loc, highlighted the vital role of this annual event in promoting reading traditions in the city. Mr Loc remarked that this year's event is being held at the Hoa Vang District Administration Centre in recognition of the district's significant achievements in meeting new rural area criteria last year.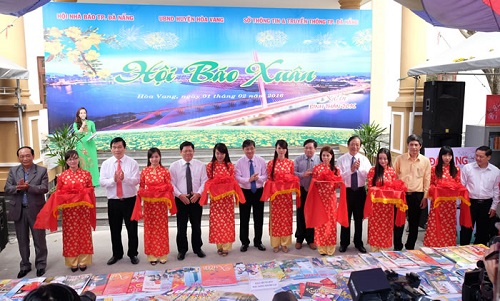 The festival's opening ceremony (Photo: Baomoi.com)
The 4-day event's participants include the Da Nang Newspaper, the Da Nang Radio and Television station (DRT), the Cong An (Police) Newspaper, the Non Nuoc Magazine, the Da Nang Women's Press Club, the city's branches of the Nhan Dan Newspaper and the Viet Nam News Agency, the Saigon Giai Phong Newspaper, the Quan Khu 5 (Military Zone 5) Newspaper, the representative office of Quang Nam Newspaper, and the local Press Photo Club.
On display at the event are publications from the local magazines of Non Nuoc (Country), Van Hoa Da Nang (Da Nang Culture), Sinh Hoat Ly Luan (Life and Theory), and Phat Trien Kinh Te-Xa Hoi Da Nang (The Socio-economic Development of Da Nang), plus the Nguoi Lam Bao Da Nang (Da Nang Journalists) special issue.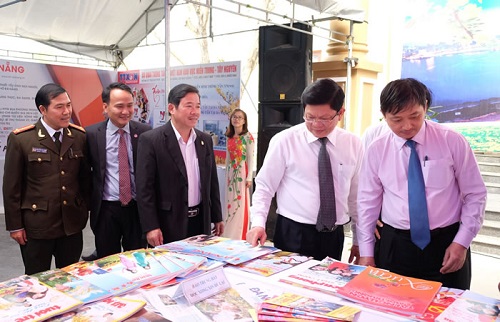 Some city leaders visit a stall (Photo: Baomoi.com)
In addition, more than 150 copies of Tet magazines from press agencies nationwide are available for local readers during the Festival.
The Da Nang General Science Library has 500 books on display, and these will be donated to a reading room in Hoa Phu Commune in Hoa Vang District when the Festival ends.
To mark the occasion, the Hoa Vang District PC has launched a writing contest about 'Upgrading New Rural Areas in Hoa Vang District 2016'. The contest is open to amateur and professional reporters competing in various categories including commentaries, interviews, reflections, reportages and investigations. Entries must be submitted to the Hoa Vang District PC no later than 31 May 2016.


.