What does Vietnamese Tet mean to expats?
Published: February 02, 2016
Expats living in Viet Nam share stories and memories from past Vietnamese Lunar New Years with Tuoi Tre News.
Vietnamese people call the Lunar New Year 'Tet, which falls on February 8 this year.
Festive preparations and the celebratory atmosphere customarily linger for one week before and after that date.
One expat called it a time for family reunion while others said Tet is the only time to see Ho Chi Minh City so quiet, calm, and peaceful.
Meanwhile, several expats said they typically choose Tet as a time to leave the country as such a long vacation is hard to come by during the working year. Others say they opt to leave the country as most shops and restaurants are closed during the holiday.
How about you?
Tet is a holiday for families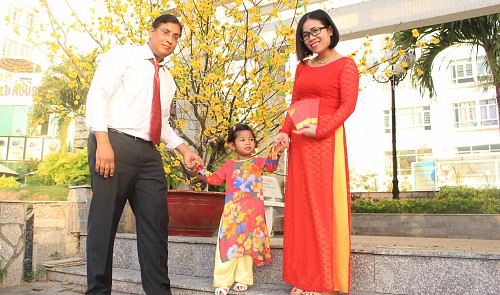 Homer Samaroo poses with his Vietnamese wife and child in Ho Chi Minh City. Tuoi Tre
I was fortunate enough to have experienced the Lunar New Year for the past seven years, but it wasn't until I had my own family here in Viet Nam that I fully enjoyed Tet.
I think Tet is a great holiday for families to get together and have fun. Families are often busy working or studying in different places at different times so they don't normally have the opportunity to be together.
During Tet, they have the opportunity to travel, have fun and excitement, eat dinner together and do the things that bring more happiness and joy to everyone's lives.
Before being married I would usually spend time at home or at the movies alone. I always remember Saigon being very quiet since most people had returned to their hometown. Now, being married to an extraordinary Vietnamese wife and having a beautiful multi-cultural child, I can fully experience and enjoy the Tet holiday. I usually visit my wife's family and relatives in her hometown, give lucky money, and catch up with the latest news going on in their lives.
One of my best memories from Tet in Viet Nam was when my daughter was able to meet her great grandmother. Having her and three other generations of females (her mother, grandmother, and great grandmother), as well as her numerous aunts and uncles all together, puts the importance of family ties into perspective.
I absolutely love the family atmosphere during Tet. During the year everyone is usually busy working and studying, so they might forget or lose focus on what they are working or studying for – usually to better themselves and at the same time to better their family situation. Tet gives everyone the opportunity to remember the importance of family and to remember to help others – especially those not as fortunate as you.
This Tet holiday, we will naturally go to my wife's hometown of Vung Tau for several days, hopefully go to the beach, meet and greet her relatives, and enjoy doing things together. My wife and daughter may return to Saigon a few days early and do something quiet, but fun and exciting together.
My workplace puts up decorations and celebrates the occasion since Tet is such an important holiday! Prior to the holiday, there is a huge party to celebrate the significance of the vacation. Everyone is usually excited to see the performances and be together with their "working" family members.
Homer Samaroo from the U.S.
ABBA's Happy New Year is everywhere
Last year I had just moved to Saigon and was looking for work but found it difficult right before Tet, so I decided to treat myself to some time on the coast in Mui Ne.
I really enjoyed the place at that time of the year. I've been back there two more times since, but during Tet was the most fun. There were plenty of other Vietnamese people and expats there. It had a real buzz.
While the celebrations in Mui Ne were quite small, they were fantastic. I think the big celebrations were in Phan Thiet City, but we enjoyed a bonfire on the beach at a popular night club/bar and we could see the fireworks in the distance. The bar had a traditional show with a lion dance which was a nice surprise.
I noticed many places had lucky money envelopes hanging from the trees and I recall not being able to escape ABBA's Happy New Year song. It seemed to follow me everywhere I went!
I also tried coconut sticky rice wrapped in banana leaves, I think it was square shaped as a pyramid. At the time, the weather in Mui Ne was great also.
About a week before Tet, in Ho Chi Minh City, a stranger (a Vietnamese film director, actually) invited me and my mate to his place for a feast, but of course we went to Mui Ne so we couldn't attend, though we definitely appreciated the lovely gesture.
This year, I'm going to Laos. I use the time during Tet to travel because I work very hard during the year and I see Ho Chi Minh City every day. All my friends do the same. We don't get many days off during the year so when we do, we travel.
Craig Nock from Australia
Empty and calm Saigon
I was in Viet Nam during last year's Tet holiday with my parents. We spent time walking on Ham Nghi Street to see the flowers before travelling to Ha Noi.
I remember it was a special atmosphere. People looked relaxed in an empty and calm Saigon with less traffic. I really liked apricot blossom trees. In Ha Noi during that time, every house was full of grandparents, parents, and children. People gathered for lunch and dinner and they all looked very happy.
I heard that some foreigners don't like to stay in Viet Nam for Tet because it's too peaceful for them. It's also the only time of the year that all the Vietnamese people are travelling so it's very crowded in Hoi An, Ha Noi, Nha Trang, and Vung Tau. That might be why some foreigners prefer going abroad during Tet.
I would recommend foreigners to stay in Viet Nam for Tet at least once to enjoy the holiday and choose a different time to visit another country.
Raphael from France
Annual leave
I have never experienced the Tet holiday in Viet Nam. I mean, I always go abroad for the celebration. I guess it's because I get days off from the office and I take it as a chance to travel abroad or go back to my own country.
For my first Tet holiday, I visited Cambodia. The second one, as well as this year, I went back to Indonesia. As usual, Tet is the best time to get my annual leave.
Siti Harajoh from Indonesia
Reunions and renewals
When I first thought about Tet, I didn't think it had a lot to do with me. But on reflection I realize that I have unconsciously started to take part in what I understand it to be all about - reunions and renewals.
Twelve months ago I went to the flower festival in Tao Dan Park. When I first saw the hoardings go up, I was worried that they were going to build on the park but thankfully I was wrong. There are so many exhibitions of flowers, fruits, bonsai, and even butterflies. It seems that Vietnamese people love taking photographs and there must be millions taken on those few days! I will certainly be visiting again this year.
After the flower festival, I will go back to Singapore to join my family. There are 2 days of public holidays there and we are planning to do some activities together. These will include a large buffet dinner with cousins, in-laws, and many more somewhere on New Year's Eve as a celebration of getting back together. We are also regularly invited to the house of our Chinese friends on the 2nd day of the New Year. We have to remember to take 2 oranges and some ang pau (red packets) filled with money for the unmarried children and little ones. It is so much easier than Christmas because there is no need to choose who gets what gift!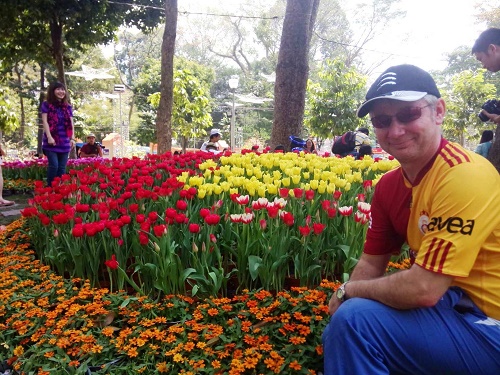 The other days, while my office is closed, I will catch up with all the things I need to do around the house - the renewal side of the festival - and one evening there will be a reunion dinner with some friends who I started playing squash (a racquet game) with over 20 years ago. Everyone who has played over the years gets back together for one evening and we reminisce about the days when were younger. Some of them are still playing in their early seventies! I feel very honored as I am the only European amongst the group - it's always a Chinese restaurant and I have no idea what I am eating because one of our members is a connoisseur and insists on speaking with the chef and deciding what to have with him rather than use a menu. What I do know is that it is always delicious and I leave full and bursting having eaten and drunk too much!
My colleagues are very much of the opinion that it is very quiet in Viet Nam during Tet. One of the first things they told me when I arrived in Viet Nam was, "Don't get stuck here for Tet, everything is closed!" I am sorry to say I have not questioned it and generally book my flights a few months in advance to make sure I can get a reservation. Maybe I should try spending the festival here one year.
Also, a week off is certainly a good opportunity to travel and it is less convenient for people to come here if their home country does not have such a long holiday. Then again, for those people that remain here, there is a lot less traffic to contend with.
Richard Day from England
(Source: Tuoi Tre News)
.