Optimism for SHB DN ahead of new season
Published: January 26, 2016
SHB DN's coach Le Huynh Duc has seen very optimistic signs in his team after they won the 2016 Hoang Anh Gia Lai (HAGL) 4-team tournament and defeated HAGL 3-1 in the opening match of the ongoing international 3-team tournament. Their next match in this tournament comes tomorrow at 5.00pm against Yokohama FC.
Both tournaments have provided him with a good opportunity to test the skills of his foreign trialists before selecting the best ones for the coming season.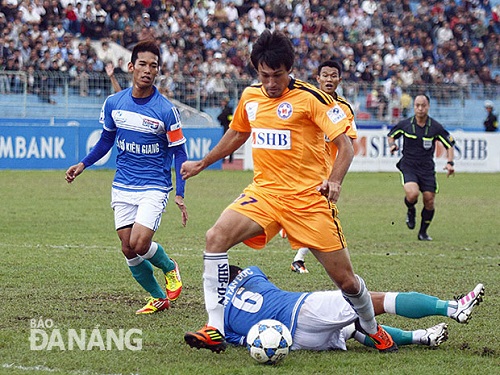 Argentinian striker Merlo (orange)
Four of the players have impressed coach Duc, but only 2 can have official contracts with the local team for the upcoming V-League season. The 4 are: former SHB DN striker Sebastian Gaston Merlo from Argentina, Horace James from Jamaica, Vladislav Aleksandrovich Ivanov from Russia, and Ramiz Pasiov from Germany.
Assistant coach Dao Quang Hung says that, after preliminary assessment, Merlo is nearly definite to be offered a contract as he is reintegrating and interacting well with his teammates. He has previously been a player for SHB DN for 6 years and he has twice won the award for top goalscorer.
The other player to impress is Horace James who has scored 3 goals in recent matches. The 32-year-old Jamaican is famous for his ability to hold the ball and score goals.
As for the new domestic players, midfielders Thanh Hai from Dong Tam Long An and Le Hoang Thien from Hoang Anh Gia Lai have been showing impressive skills. In addition, young midfielder Lam Anh Quang from Nam Dinh possesses good tactical thinking and can deliver powerful long passes.
By contrast, some of the young players from the local club's youth training programme, except for A Mit, have yet to impress the coaching board.
.