SHB DN must show respect for Sanna Khanh Hoa
Published: March 04, 2016
After their 2-1 away win over Hoang Anh Gia Lai last Sunday, SHB Da Nang next play at home to Sanna Khanh Hoa (SKH) at 5pm on Saturday. This will be a tough game for the home team, especially for their striker Merlo, because SKH have 2 skilled foreign players, Uche Iheruome and Chaher Zarour.
Nigerian striker Iheruome is renowned for his long passes and accurately powerful headers, and he scored a total of 12 goals for SKH in last season's V League.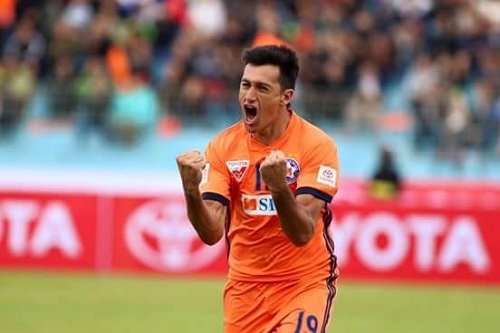 SHB DN's striker Merlo
Chaher Zarour is also famed for his ability to produce long passes and powerful headers. The French-Algerian midfielder is one year older than SHB DN's top striker Merlo, but he does not have the same history of severe injuries as Merlo. Zarour is 1.90m tall, 2cm taller than Merlo, and he has an imperturbable character whilst Merlo can be hot-tempered at times.
The match tomorrow will prove to be an interesting contest, especially given the importance of the foreign players to their teams. Merlo is currently the league's top scorer with 4 goals from his 2 games, whilst Zarour has yet to score and Iheruome has scored just one.
.