Vietfest 2016 promotes Vietnamese culture in London
Published: March 17, 2016
Vietfest 2016, a Vietnamese cultural festival, opened at University College London (UCL) on March 14 as part of activities hosted by Vietnamese students in the UK to promote the image of Viet Nam's people and land.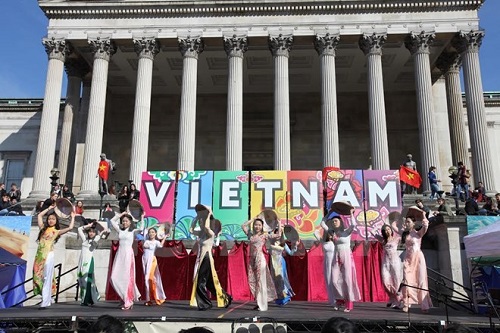 Art performance at the festival (Source: VNA)
Booths displaying hand-made souvenirs and Vietnamese traditional dishes attracted the interest of students. An art programme performed by Vietnamese students was also included in the festival.
Under the support of the Vietnamese Embassy in the UK, Vietnamese students also organised an exhibition of embroidery, large-size photographs and folk paintings featuring Viet Nam's landscapes.
Do An, Chairman of the Vietnamese Students Association in UCL (VietSoc UCL), highlighted the significance of the event, saying that preparations for the festival began in September last year.
Through the event, VietSoc UCL wishes to call on other VietSocs in the UK and worldwide to enhance their efforts in promoting the national culture, An said.
At present, there are over 11,000 Vietnamese students studying in universities throughout the UK.
UCL is a leading multi-disciplinary university in London.
(Source: VNA)
.