Viet Nam finish 2nd at Asian U23 Championship, remaining 'champions' of fans' hearts
Published: January 28, 2018
Viet Nam came second in the Asian Football Confederation Under-23 (AFC U23) Championship after having lost 1-2 in Saturday's once-in-a-lifetime final to Uzbekistan who managed to find a last-grasp goal in extra time to win the trophy.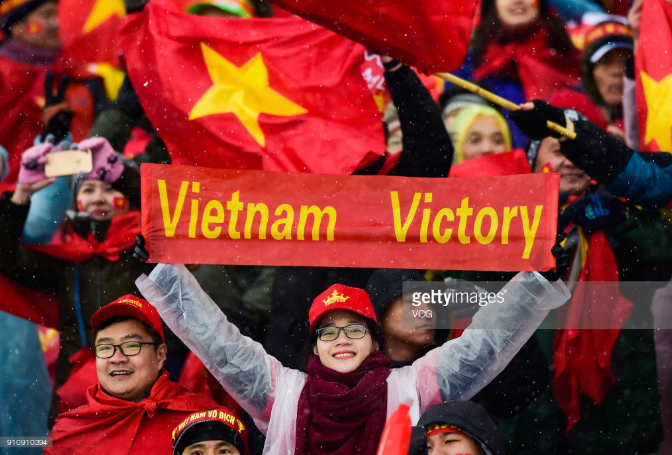 A large number of Vietnamese fans cheering for the team
In addition to silver medals, the Vietnamese team also received the Fair Play Award for their impressive performance throughout the tough tournament which took place in China.
Regardless of snowy conditions in China's Changzhou Olympic Sports Centre, the Vietnamese 'warriors' showed off their undaunted courage and indomitable fighting spirit, inspiring them not to surrender to any strong rivals.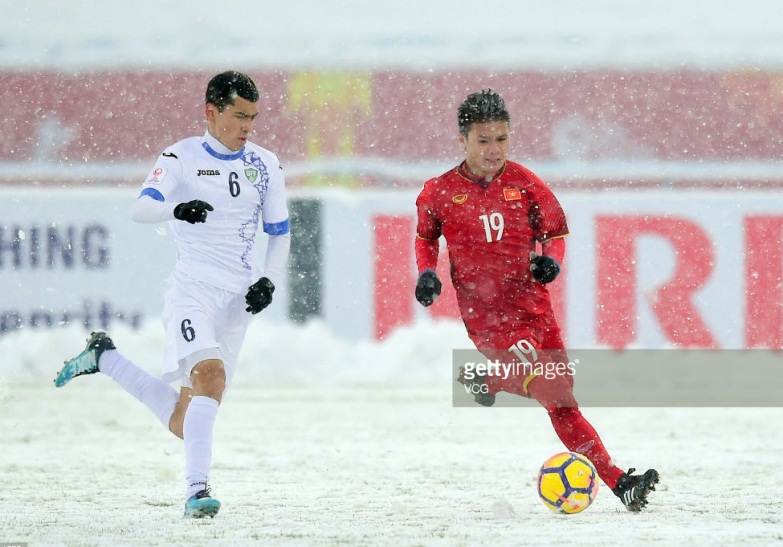 Vietnamese (in red) and Uzbek players (in white) during the final
Heavy snow strongly affected the quality of the match. It not only slowed the speed of the players but also prevented them from making accurate passes.
In the 8th minute, Uzbek defender Rustamjon Ashurmatov scored first with a header. More than half an hour later, Viet Nam's midfielder Nguyen Quang Hai made his mark as he leveled the score at 1-1 with a stunning free kick into the top-left corner, after striker Cong Phuong was tackled just outside of the box.
It was Hai's 5th goal in this tournament so far, behind only Almoez Ali of Qatar who finished as top scorer with 6, making him one of the top scorers at the Asian championship. In particular, all of Hai's goals played a crucial role in Viet Nam' matches against their Asian rivals in this tournament.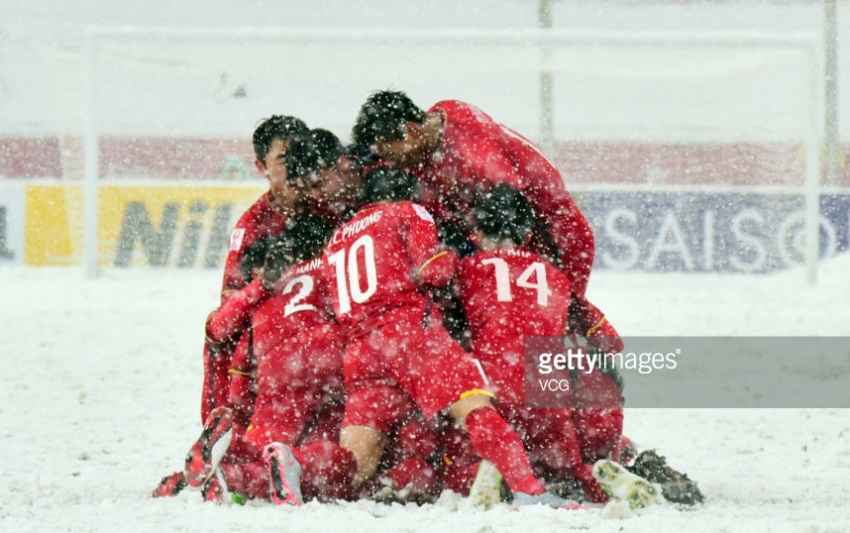 The Vietnamese squad celebrating Hai's wonderful goal
The second half saw great efforts from both sides but none of them bagged more goals, forcing the teams to play extra time.
Unfortunately, the game looked set to be heading to penalties then Uzbekistan's substitute Andrey Sidorov, who entered the fray just 5 minutes before the end, scored their second goal after netting a corner making the Uzbek team champions of the 2018 U23 Asian Cup.
"It is a regrettable result. We played well and we could play much better than this match," said a visibly moved Hai, with tears sparkling in his eyes, after the final whistle.
The talented man vowed that he and his teammates would try harder in the coming competitions to meet fans' great expectation in the coming time.
Meanwhile, coach Park Hang-seo apologised for not presenting the Vietnamese fans with the championship trophy.
Despite their defeat, the Vietnamese players and coach Park will remain the 'heroic champions' of fans' hearts.
Every Vietnamese football lover are very proud of the young talented 'warriors' with their great fighting spirit.
In the fact that, greater-than-expected achievements made by the Vietnamese team at this year's U23 Asian tournament opened a brighter future for the country's football history!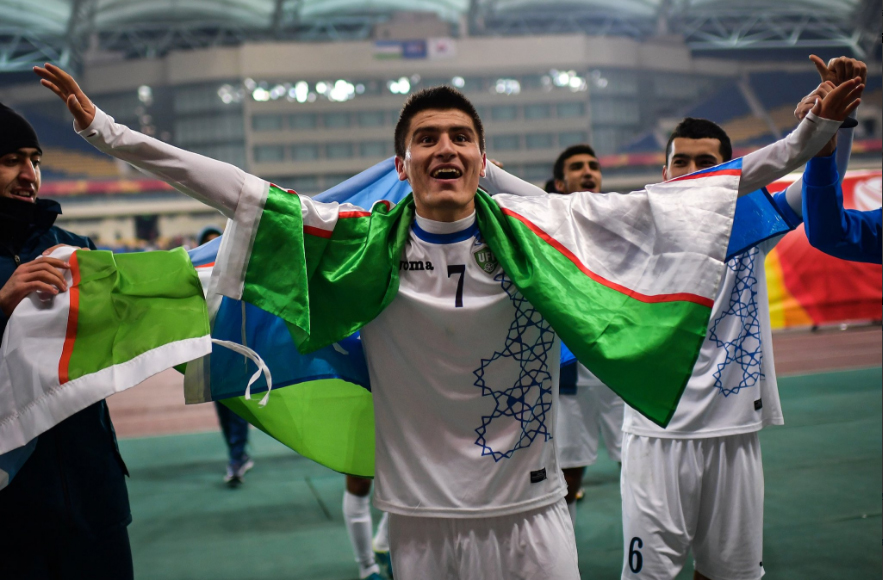 With a bit good luck, the Uzbek team win the championship trophy
.