FIFA pledges support for Viet Nam's football development
Published: February 09, 2018
President of the world football governing body FIFA Gianni Infantino pledged to support Viet Nam's football development programmes in the coming time during a working session with representatives from the Viet Nam Football Federation (VFF) in Ha Noi on Thursday.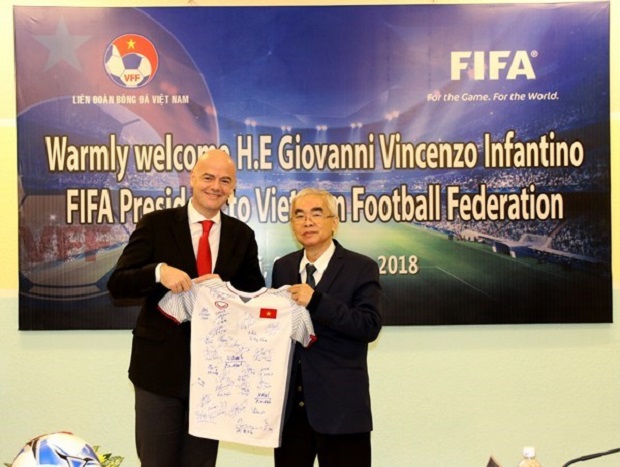 VFF President Le Hung Dung (R) and FIFA President Gianni Infantino (Source: VNA)
Gianni Infantino highly valued football achievements made by Viet Nam in recent time, especially Viet Nam's U20 football team's presence at the U20 World Cup 2017; Viet Nam's futsal team playing in the semi-finals of the 2018 AFC Futsal Championship; and the U23 team's success as the runner-up at the AFC U23 Championship.
He attributed the results to efforts made by the Vietnamese Government and relevant agencies in promoting the football's development in general and training young football talents.
FIFA will continue supporting the FIFA Goal Project in Viet Nam by providing financial resources, building of laboratory and high-quality training room, and referee training, thus helping Viet Nam complete young football training programmes in particular and promote its football development in general, FIFA President Infantino said.
He reported that FIFA has selected Viet Nam as one of the participants in a pilot project to develop women's football in 18 months. FIFA will send its experts to Viet Nam to help the VFF build a long-term programme for the project, he added.
He also thanked the Vietnamese Government and people for their support to the country's football development, expressing his belief that Viet Nam's football will reap more successes in the near future.
(Source: VNA)

.