Guitar Concert- an unmissable Da Nang event in January 2021
December 27, 2020, 11:24 [GMT+7]
All guitar lovers across Da Nang will be immersed themselves in a delightful musical feast with various fascinating solo, duet, quartet and quintet performances by famous domestic classical guitarists at an interesting classical guitar concert to celebrate the arrival of 2021.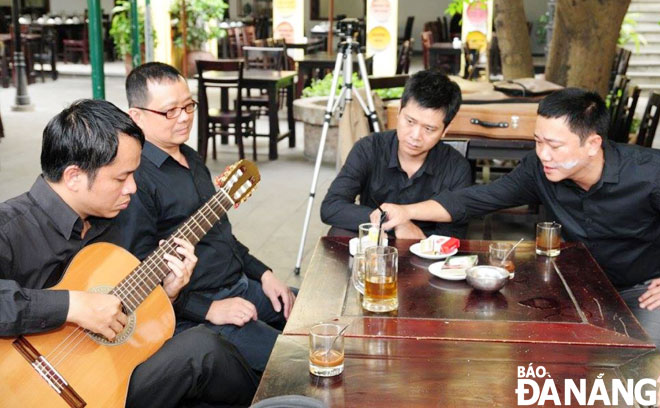 Some members of the Da Nang Classic Guitar Club practicing to bring the audience high-quality art performances at the Da Nang Guitar Concert 2021
Co-hosted by Da Nang Events and Festivals Organising Centre and the Da Nang Classical Guitar Club, the concert will take place at 8.00 pm on 3 January 2021 at the Trung Vuong Theatre, 86 Hung Vuong Street.
The music event will feature enchanting performances by members from the Da Nang Classical Guitar Club, along with popular domestic classical guitarists who have received important awards from national and international music contests.
Among prize winners are well-renowned Phan Xuan Tri, a teacher's pet of artist Le Hoang Minh who is a founding member of the quartet Guitar Trek of Australia and has made his professional tours in Europe and Australia.
Da Nang-born guitarist Tri graduated from the Hue Academy of Music in 2004 at intermediate level. He then obtained a Bachelor's degree in classical guitar at the Ho Chi Minh City Conservatory of Music in 2010.
During his music school years, Tri had the opportunity to perform with such guitar masters as Rene Izquierdo and Paul Cesarczyk , both from the USA, and Jeremy Jouve from France.
Over recent years, Tri has regularly performed at international guitar festivals around the world. Included are Silpakorn International Guitar Festival and Calm in Thailand's Bangkok capital in 2015, 2016 and 2017, and Alor Setar International Guitar Festival 2017 in Malaysia, and the Jakarta International Guitar Festival 2018 in Indonesia.
In addition, the talented guitarist has delivered his own tunes in concerts in Ha Noi, Ho Chi Minh City, Da Nang, Hue and other Vietnamese localities.
Last year, Tri teamed up Japanese guitarist Kozo Tate and famous Vietnamese artist Le Hoang Minh to perform at the Da Nang Guitar Concert 2019 entitled "Three centuries of Guitar Masterpiece", making a good impression on Da Nang audience.
At the upcoming Da Nang Guitar Concert, Tri will play Standchen (composed by Franz Schubert and arranged by J.K Mertz) and Serenata Espanola (composed by Joaquim Malats).
Also, he will co-star with guitarists Dinh Van Hao, Nguyen Van Nho and Nguyen Ngoc San to play El GaTo Montes (composed by Manuel Penella and arranged by Eythor Thorlaksson).
Another guitarist to perform at the Da Nang Guitar Concert 2021 will be Tran Duy Toan who also graduated from the Hue Academy of Music. The Nha Trang native has been invited to perform at many guitar concerts across Viet Nam.
Toan will play Un Dia de Noviembre (Leo Brouwer) and Fantasy on "Scrimson moon" (Sergey Rudnev) at the upcoming concert in Da Nang.
Also, one of the highlights of the upcoming concert will be exciting performances by singer Tran Quang Hao, Director of the Da Nang-based Trung Vuong Theatre.
"The free-to-attend concert aims to bring a breath of fresh air to Da Nang's entertainment activities. It is also viewed as a warm year-end gift for guitar lovers across the city" Director Hao remarked.
By TIEU YEN - Translated by M.D
.