Sixth graders and university students in Da Nang go back to school
February 14, 2022, 17:43 [GMT+7]
Across Da Nang, sixth graders and students of some universities returned to classrooms on Monday, February 14.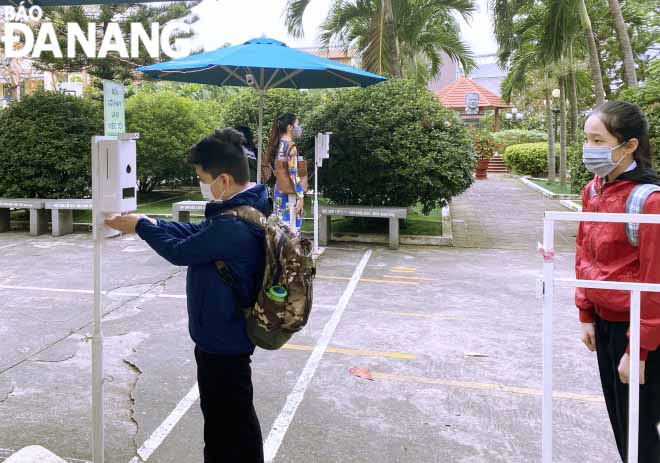 Sixth graders at the Le Do Junior High School located in Son Tra District disinfect their hands before entering the class. Photo: NGOC HA.
Monday marked the first time back in the classroom for sixth graders after a long time of virtual learning at home due to the COVID-19 pandemic, allowing them to become acquainted with their classmates and their new school.
The schools are opening with the protective measures in a bid to maintain the environment that are as safe as possible for their teachers and students. The focus is on using lane separations for students at entry and exit points in order to limit crowding at these areas in addition to putting in place other precautionary measures such as conducting body temperature checks on students and asking them to disinfect their hands before entering the class.
In addition, schools are implementing blended learning approach that can combine the best of both traditional and online instruction to offer engaging learning experiences for students who are attending physical classes and are self-isolating at home in efforts to keep quarantined students learning.
Meanwhile, universities across Da Nang have prepared themselves for the return of in-person instruction in the new normal. The automatic hand sanitizer system, body temperature measurement devices, QR code check-in system and more are available to university students in an attempt to ensure a safe return to in-person School for them.
Students at University of Science and Technology, University of Technical Education, University of Education and second year students at University of Foreign Languages ​​returned to campus on Monday. Other universities will come back within February and March.
Before resuming in-person instruction, universities across Da Nang conducted a survey of their students about their health conditions and related epidemiological factors, and their COVID-19 vaccination status. In addition, COVID-19 response teams have been set up at these schools and different response scenarios to COVID-19 have been developed in a bid to keep students safe during the pandemic after face-to-face learning in the new normal.
The Youth Union members of the Dong A University helping students fill in online health declaration form. Photo: NGOC HA.
Reporting by NGOC HA – Translating by H.L
.