Da Nang's outstanding scientific, technical works honoured
May 27, 2022, 09:21 [GMT+7]
A ceremony took place on Thursday by the Da Nang Union of Science and Technology Associations to honour the city's outstanding scientific and technical works, projects that have won many prizes at municipal and national contests.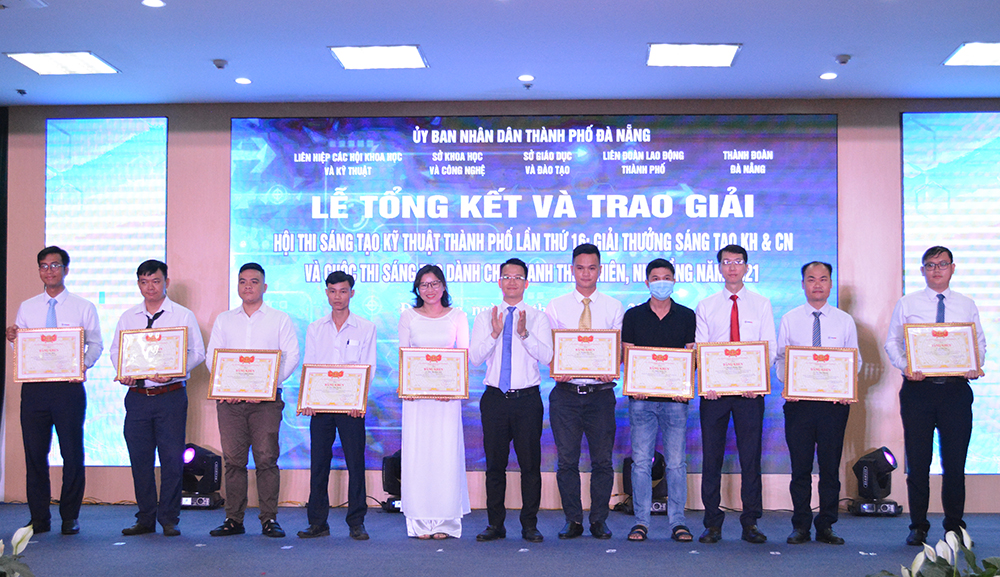 A scene of the honouring ceremony (Photo: https://danang.gov.vn)
As reported, 1 first, 8 second, 7 third and 11 consolation prizes were given out to outstanding entrants at the 16th Municipal Technical Innovation Contest.
In particular, Da Nang won 1 first, 1 third and 2 consolation prizes in the 16th National Technical Innovation Contest.
The 'Research, design, manufacture 20mm-80mm thick sheet steel punching machine' by Ha Giang and Mai Thuy from the city-based Ha Giang Phuoc Tuong Mechanical JSC brought home a first prize.
Da Nang also grasped 5 prizes at the Viet Nam Science and Technology Innovation Award in 2021.
The 'Designing and building an electronic contract signing software platform' by Le Xuan Son and his colleagues at VNPT - IT Region 3 was awarded with a second prize.
The 'Electronic port software E-port and SmartGate containers' by Luu Van Dung, Tran Le Tuan and their colleagues from the Da Nang Port JSC won the third prize.
At the 17th National Innovation Contest for Youth and Children, Da Nang won 1 second and 2 third prizes.
The 'WARDIS - Software for warning, coordination, and support for rescue in natural disasters developed by students at the Nguyen Khuyen Secondary & High School and the Le Quy Don High School for the Gifted took a second prize.
Reporting by PHONG LAN - Translating by A.THU
.