American vet finds peaceful home in city
Published: December 06, 2018
Although nearly half a century has passed, the American war's casualties and victims continue to suffer.
Many American veterans have returned to Viet Nam to support them. Matthew Keenan, 68, is among those who returned to help ease the pain.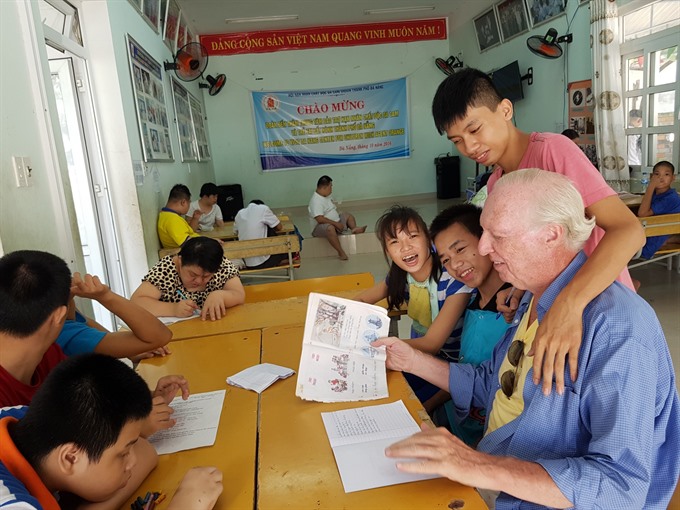 Reading: Matthew Keenan (front right) with the children at DAVA's day care centre. Courtesy Photos of Matthew Keenan
Keenan joined the war in Viet Nam by the end of 1971 as an administrative specialist, travelling to Cam Ranh Bay, Chu Lai, and Da Nang.
Returning to New York in May 1972, he continued his college education. Then he did legal work in New York prisons, taught paralegal courses in colleges, became a lawyer and managed companies and properties in Philadelphia and New York. He got married, having two daughters and four grandchildren.
Over the years, he was aware of the use of Agent Orange during the war in Viet Nam. All three places he had been stationed are listed as Agent Orange "hot spots".
Keenan was diagnosed with prostate cancer, which his doctors suspected was related to his exposure to Agent Orange. He researched the subject and realised that millions of Vietnamese people were affected and the US government was not doing much to help. While they provided funds for decontamination, there was not much help for victims.
"I felt a personal obligation and desire to help the children at the Agent Orange day care centres," he told Viet Nam News. "It's my personal way to work together for reconciliation, reformation and a better future."
He has visited Việt Nam nine times since 2015, each visit lasting around eight to 12 weeks. Most of his time is dedicated to doing volunteer work for day care centres of the Da Nang Association for Victims of Agent Orange (DAVA).
Helping hand: Keenan provides care at DAVA's centre.
One can find him working with the staff, making incense sticks for sale, gardening, trimming the sewing products or doing some repairs with a few minutes of singing, dancing and playing football and basketball.
He sometimes receives students from Australia, South Korea, Japan and Thailand, who visit the centres to help spread awareness about problems caused by Agent Orange and its effects on Vietnamese adults and children.
"My main purpose with the children affected by Agent Orange is to help them have fun, to give them some friendly attention, to help them smile and laugh and to be a voice to communicate awareness to help obtain support in the form of money, food or services," he said. "I also have the opportunity to be involved with the staff and children at fundraising events. We attend marathons and bike races and sell some of the products to the community."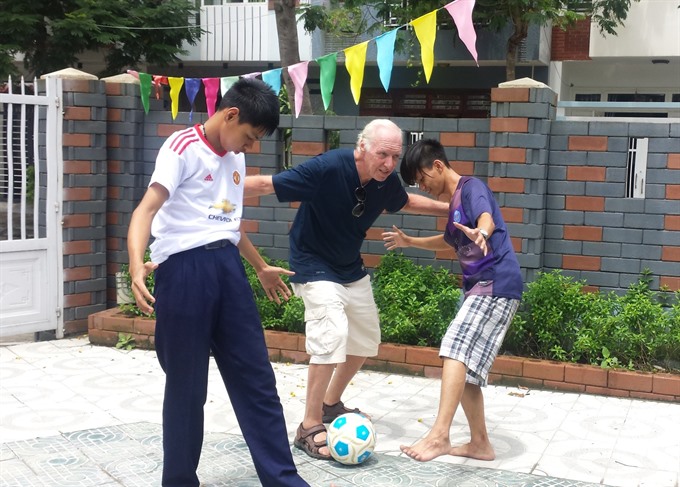 Kick about: Keenan plays football with children at DAVA's centre.
Keenan said some of the children have serious physical challenges while others have intellectual challenges.
"I treat everyone equally," he said. "I try to give attention to each person whether it is doing an activity such as writing, colouring or playing sports. Whatever the activity, I always try to bring a happy spirit."
Sometimes he sees a particular need at the centre. At one centre, he brought a flat screen TV set. For another centre, he bought a new sound system. Last year, with the assistance of some other veterans, he purchased three garden swings for the children to relax outdoors.
A larger project is to obtain a safe bus. The centre has one van, meaning 30 children are packed into a van made for 12. Keenan is raising funds to buy a larger and safer bus.
"He has been enthusiastic about the centre's work," said To Nam, DAVA director. "Besides helping us care for the children, he also helps us contact sponsors for the centre. He has paid a lot of money to make a basketball court and buy toys for the centre."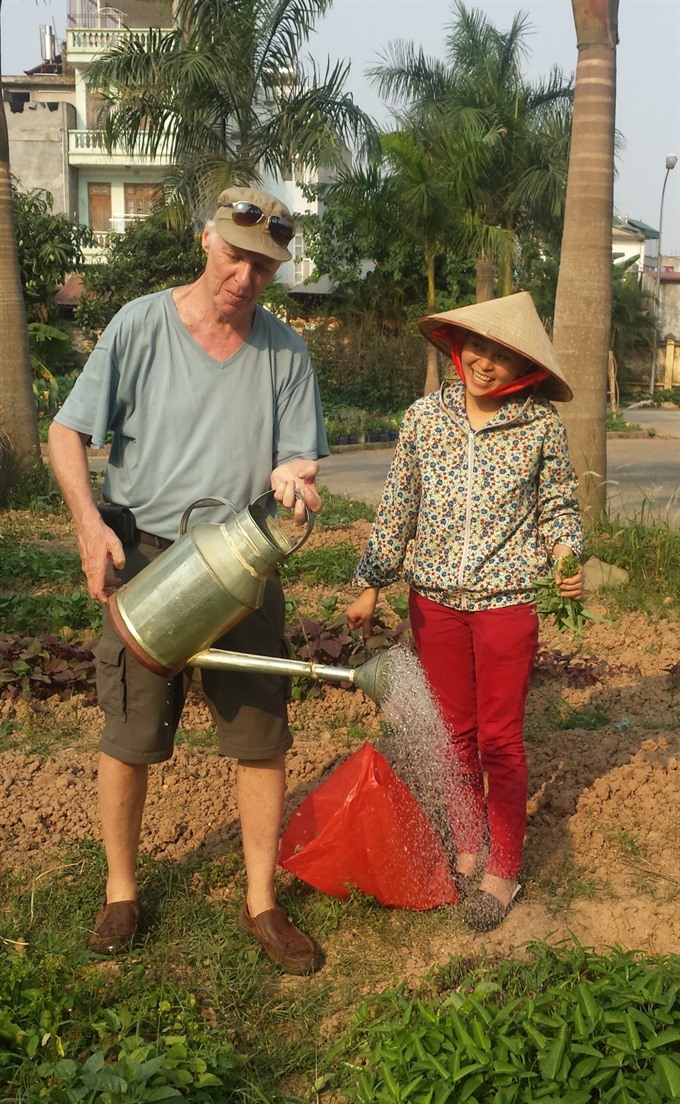 Farm hand: Keenan helps farm at Friendship Village in Ha Noi.
Many people asked why he kept coming back. He responded by showing them his photos with the children.
"Friends and family tell me that I look so happy," he said. "All I can say is that I feel joy in my heart. There is a bond I share; we are all victims of the Agent Orange chemical used during the war."
"I feel a sense of reconciliation and friendship with the Vietnamese people where there was once destruction and chaos," he said. "While I always try to present a happy face, there are times that in private reflective moments, I feel sad."
During the Lunar New Year festival earlier this year, one of the boys at the centre who was always in a wheelchair and suffered respiratory problems died.
Keenan's close friend Jimmy Thompson, who had been exposed to Agent Orange in Da Nang in 1972, also died on July 23, 2018 of spinal cancer.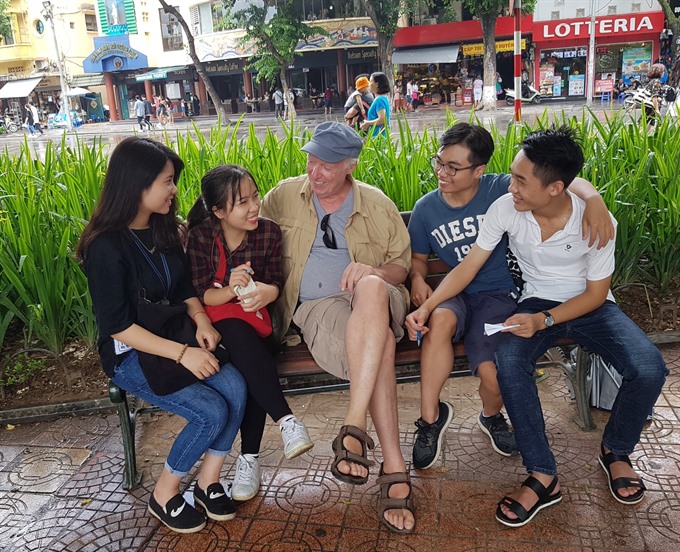 Lakeside chat: Keenan helps Vietnamese students practise their English by Hoan Kiem Lake in Ha Noi.
Second home
Keenan said he had seriously considered how to solve the problem of going back and forth between New York and Da Nang.
"The practical solution is to live in Da Nang and stay there with the DAVA children, and then I can visit my other home in New York," he said. "I consider Da Nang and the DAVA day care centres to be my second home."
Over the years, Keenan has met many people in Da Nang and has made many friends. They often go on small trips to Hoi An and other sites near Da Nang. He has also enjoyed travelling to Ha Noi and has some friends there. At Hoan Kiem Lake, he spoke with students who asked to practise speaking English.
"I enjoy walking along the beach and running by the water," he said. "I have some favourite Vietnamese and western style restaurants. I like phở, chicken or beef with noodles and fish. However, I like to cook and prepare many meals by myself."
He even gets around on motorbike.
Keenan said he had no culture shock in Viet Nam.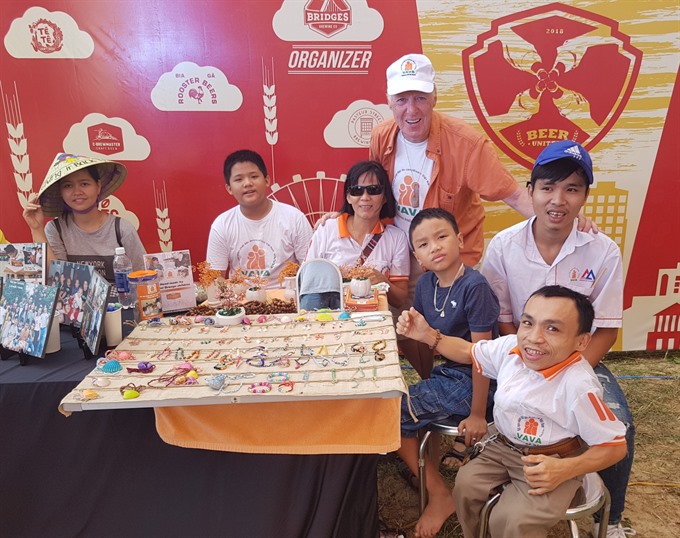 For sale: Matthew Keenan (standing) sells handmade DAVA products at a fundraiser.
"I lived in New York my whole life," he said. "All cultures throughout the world live in New York and I am used to being with many different people with different cultures."
Keenan noticed that Vietnamese people do things spontaneously.
"I often receive a call from someone to ask me if I would like to do something immediately," he said.
"I love Viet Nam and will continue to come back and dedicate my time to victims of Agent Orange. I feel a strong desire to live the words of my mother's welcome home message on the door [when I returned from war in 1972]: 'Welcome home. Love, peace and happiness.'"
(Source: VNS/ DA NANG Today)
.