Kind-hearted and dedicated US physiotherapist
July 30, 2019, 11:51 [GMT+7]
With over 40 years of experience, US physiotherapist Virginia Lockett, 66, has given up her home and career in her homeland to realise her big dream of helping patients who suffer from traumatic brain injury and stroke in Da Nang.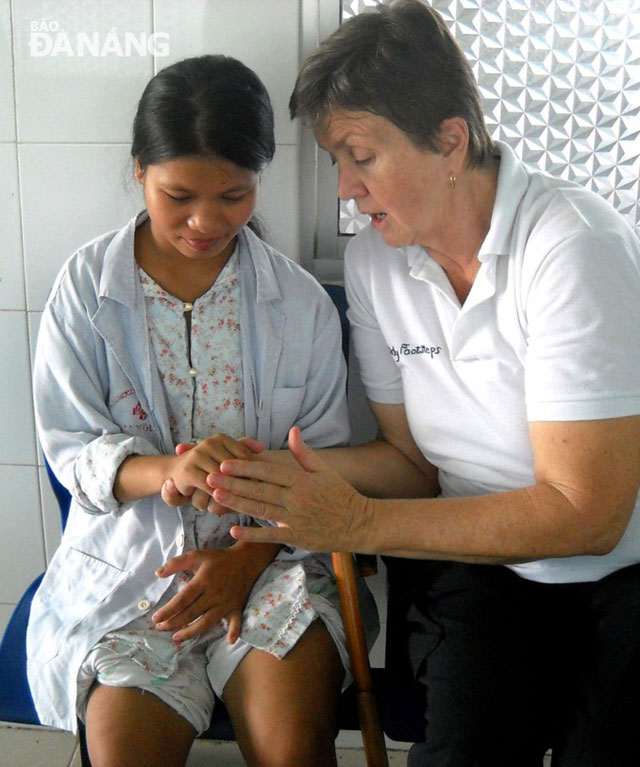 Mrs Lockett enthusiastically offering a patient hand rehabilitation
What is the most extraordinary about this woman is that she considered saving patients' lives the meaning of her life.
Mrs Lockett first arrived in Viet Nam 15 years ago for her voluntary trip. About 10 years later, she went back to Viet Nam as a volunteer of Health Volunteers Overseas (HVO), a Washington DC-based non-profit dedicated to improving the availability and quality of healthcare in resource-scarce countries.
After that, Mrs Lockett and her husband decided to settle down permanently in this Southeast Asian country, and chose Da Nang as their second home and want to stay here for the rest of their lives.
At that time, the US physiotherapist worked for hospitals and rehabilitation facilities across the city as a volunteer. As an expert in physiotherapy, she got actively involved in enhancing the professional skills for medical workers and giving treatment to patients there. She successfully dealt with many central nervous system problems, hereby bringing joy to patients.
In 2010, Mrs Lockett started working at the city's Traditional Medicine Hospital in an effort to provide medical support for stroke patients, and since then, she has brought new life to the hospital's physiotherapy unit.
The past years have seen a growing number of patients from Da Nang and other localities nationwide seeking physiotherapeutic treatment at this hospital for their traumatic brain injury and stroke.
It is worth praising that Mrs Lockett always gets to know her patients before learning about their conditions. She gives them trust and hope through her eyes and gestures.
After strokes, patients often have physical defects such as impaired walking. Based on their disabilities, Ms Lockett is willing to assist them to practice everyday movements, and gradually, their normal activities are rehabilitated. In addition, she also teaches patient's families some practical physical exercises, so that they can help the patients practice and recover at home.
A male resident from Hoa Vang District, for instance, suffered from polyneuropathy which resulted in numbness in his hands and legs, and burning pain as well.
Fortunately, with the help of Mrs Lockett, the patient showed some signs of recovery, and he was then able to walk normally. More encouragingly, the US physiotherapist made him moved as she donated a 3-wheeled vehicle to him for his more convenient travel, along with the provision of financial aid to support his livelihoods.
The results of the treatment offered by Mrs Lockett were really successful beyond my expectations. The extraordinary experience definitely made a remarkable and major change in his life. It was like seeing the light at the end of a long tunnel.
With her great heart, strong dedication, extraordinary generosity, and an unconditional willingness, the kind-hearted US woman has done her utmost for the benefit of the patients. She always feels very delighted to see her patients recover well and re-integrate into the community.
.