Large-scale Covid-19 testing to be conducted in Da Nang
August 01, 2020, 17:09 [GMT+7]
Da Nang will conduct a large-scale Covid-19 testing across the city as an active response to a new wave of coronavirus infections. Focus will be stepping up contact tracing, epidemiological investigation and testing activities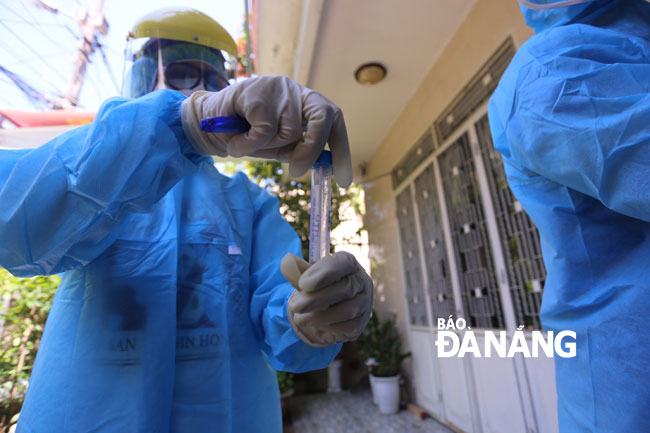 Medical workers from the Da Nang Disease Centre taking samples for Covid-19 testing in Cam Le District
Samples for Covid-19 tests will be taken from those living in residential areas placed under lockdown, and in-patients, their family members and their caregivers, plus those who used to work or visit the city-based hospitals of Da Nang General, C, Hoan My, and Orthopedic and Rehabilitation and other medical facilities that have links with Da Nang's positive Covid-19 cases.
The Da Nang Health Department is urging relevant agencies to promptly transfer patients on dialysis at the Da Nang General Hospital to the Hoa Vang District General Hospital. In addition all local medical facilities are required to be ready to isolate suspected cases and treat Covid-19 patients.
The Ministry of Health has sent a group of specialists to provide training for 400 health workers and medical students in Da Nang on how to take samples for testing and tracing people in close contacts of coronavirus carriers.
The Da Nang Disease Control Centre is responsible for receiving the taken samples and conducting diagnostic tests for Covid-19.
The already-blockaded Da Nang General Hospital and the city's Lung Hospital are in charge of conducting tests for their staff, in-patients and their relatives who are now isolated there.
By PHAN CHUNG- Translated by A.T
.