People across Da Nang urged to continue to stay alert as Covid-19 has not gone
August 27, 2020, 14:01 [GMT+7]
Addressing the Wednesday meeting, the Chairman of the Da Nang People's Committee, cum Head of the Da Nang Steering Committee for Covid-19 Prevention and Control, Mr Huynh Duc Tho commended the local authorities and residents for their joint efforts in gradually bringing the pandemic under control. However, Mr Tho emphasised a must-do to step up the city's precautionary measures to stop the spread of the infection, and to urge the people across Da Nang not to become complacent about the risks of coronavirus as the virus has not gone away.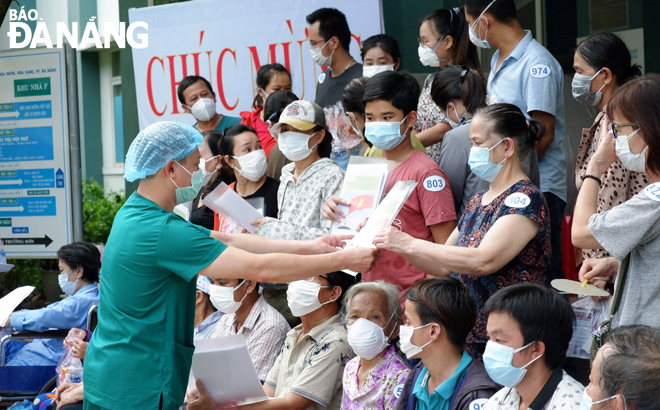 Thirty-one patients were discharged from the Hoa Vang Field Hospital on Wednesday afternoon
Chairman Tho pointed out to the fact that the relaxing of the ongoing citywide compulsory social distancing restrictions totally depends on the situation with the coronavirus disease in Da Nang in the coming days. Therefore, it is high time for relevant agencies to scale up the city's Covid-19 testing programmes, especially in traditional markets, industrial parks, and residential areas under lockdown.
According to Doctor Ton That Thanh, the Director of the Centre for Disease Control (CDC), after Da Nang braced for a second wave of Covid-19 infections late July, more than 208,000 people across the city have had their swab samples taken for Covid-19 testing till date, including more than 15,000 stallholders and market-goers in total, and more than 5,500 workers in industrial parks and 500 sanitation workers.
Meanwhile, about 12,000 F1 and 15,000 F2 contacts have been traced, and all of them are quarantined in Da Nang.
At present, there are a total of 2,257 Covid-19 pandemic prevention task forces in residential areas citywide, of which 169 are operating very effectively around the clock in areas of Da Nang at most risk of coronavirus resurgence.
These task forces are now conducting regular monitoring of families in their residential areas. Their members task themselves with closely supervising their target families' practices of infection preventation and control measures, and measuring the body temperatures of those entering residential areas where Covid-19 cases have confirmed.
Director of the Da Nang Department of Health Ngo Thi Kim Yen said that no new positive cases were confirmed in Da Nang on Thursday morning. No new coronavirus cases have been recorded in Da Nang in the past 36 hours according to the latest data from the Da Nang Department of Health.
In fact, any failures in making medical declarations and the arbitrary use of medicine when suffering such symptoms as cough and fever among the public across Da Nang may pose a potential risk of the virus spread.
Strict infection prevention and control measures for Covid-19 is required to be put in place in all citywide medical facilities and traditional markets.
Besides, the Da Nang government will facilitate home comebacks for the remaining immigrant construction workers and students who are still stuck in Da Nang due to coronavirus.
Meanwhile, heavy administrative penalties will be imposed on any breach in the ongoing citywide social distancing rules, especially such violations as public gatherings, parties and not wearing face covering in public places.
By PHAN CHUNG – Translated by A.T
.