Pandemic slowing in Da Nang but people urged to remain on high alert
August 25, 2020, 13:58 [GMT+7]
Da Nang has been successful in slowing the spread of the disease so far. The number of new confirmed cases of coronavirus has been declining recently. However, Da Nang government has urged people across the city to remain on high alert against Covid-19. The deadly virus's nature is still complicated and unpredictable as a few new positive cases recently were recorded in some traditional markets.
Facing this challenging fact, the Da Nang government must kept in place its firm stance on maintaining a high alert for coronavirus, ensuring the public practice of social distancing rules, and offering more financial aid from the national and municipal budgets to those financially struggling across the city in the wake of the coronavirus crisis.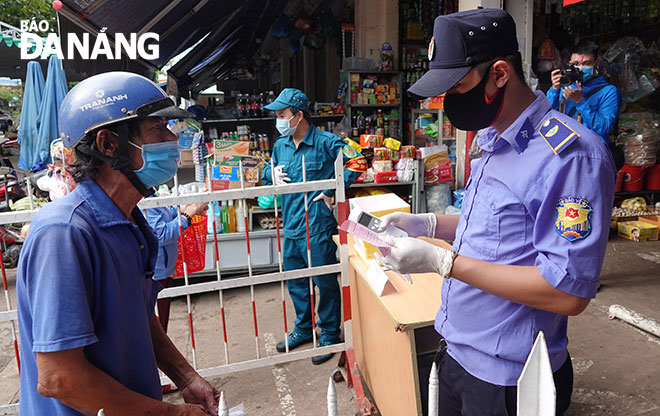 Checking shop tickets at the Hoa Cuong wholesale market
These drastic measures were highlighted at the Monday meeting chaired by the Da Nang People's Committee Vice Chairman cum Deputy Head of the Da Nang Steering Committee for Covid-19 Prevention and Control, Mr Le Trung Chinh.
According to doctor Ton That Thanh, the Director of the Da Nang Centre for Disease Control (CDC), medical workers have taken swab samples for coronavirus testing from a combined total of 12,000 stallholders at local traditional markets, market-goers and those living nearby. Encouragingly, more than 1,400 stallholders in the Hoa Cuong wholesale market have tested negative once for the virus.
In his perspective Director of the municipal Department of Industry and Trade Nguyen Ha Bac, attached importance of maintaining the use of the city authorities-distributed shop tickets which allow local residents to go shopping at traditional markets for odd or even days, until further notice, in a bid to in orders to limit crowds and gatherings.
Director of the municipal Department of Health Ngo Thi Kim Yen affirmed the priority given to scaling up the city's Covid-19 testing programmes to provide tests for F1 contacts and anyone who show such symptoms as cough, fever, and shortness of breath upon their arrivals at medical facilities for normal health checkups and treatment.
"Amid the possibly-prolonged combat against the complicated virus, we must ensure full deployment of workfore, time, chemical reagents and expenses on testing for coronavirus", Director Yen affirmed.
Vice Chairman Chinh urged relevant agencies to resolutely handle any breach in the ongoing citywide social distancing rules, and prevent any inaccurate information and negative comments from going viral on social networks about the city's infection prevention and control measures for Covid-19. Any public gatherings, street vendors and other violations must be handled in a prompt fashion.
Till date, through appeals made by the municipal Fatherland Front Committee, and the Department of Labour, War Invalids and Social Affairs, a total of over 51 billion VND and millions of medical protective items and equipment from donors across the country have gone to support the city's fight against Covid-19.
Following approval from the Ministry of Education and Training, the second phase of the national senior high school graduation examination is scheduled to take place between 2 and 4 September.
Statistics released by the Ministry of Education and Training show over 26,000 high school seniors, mainly in Covid-19 hotspots of Viet Nam, namely Da Nang, Quang Nam and Dak Lak, have not yet attended the exam during the already-held first phase of this very important educational event.
In Da Nang, a total of over 12,000 senior high school pupils and about 2,000 examiners will be tested for coronavirus prior to the upcoming seminal event which not only fetches learners a high-school diploma but also determines admission to universities and junior colleges.
If a student is found infected with the coronavirus, he/she will be exempted from attending the exam and will exceptionally graduate. Students quarantined after coming in contact with infected patients will take the exam inside their isolation facilities or places nearby under the supervision of medical staff. All candidates attending the exam will be required to wear face coverings, have their body temperatures checked and use hand sanitizers.
In particular, the Da Nang authorities will make plans for bringing a total of 171 examinees currently remaining stuck in other cities and provinces nationwide back to their homes in Da Nang so that they can sit for upcoming exams on time.
Upon their arrival in Da Nang, these candidates will be taken to the municipal Disease Control Centre, located at 315 Phan Chau Trinh to test for coronavirus.
By PHAN CHUNG – Translated by A.T
.