Da Nang General Hospital allowed to conduct confirmatory tests for COVID-19
August 04, 2021, 10:18 [GMT+7]
The Microbiology Department of the Da Nang General Hospital, the largest of its kinds in the city, has obtained an accreditation from the Nha Trang Pasteur Institute to confirm positive COVID-19 test results.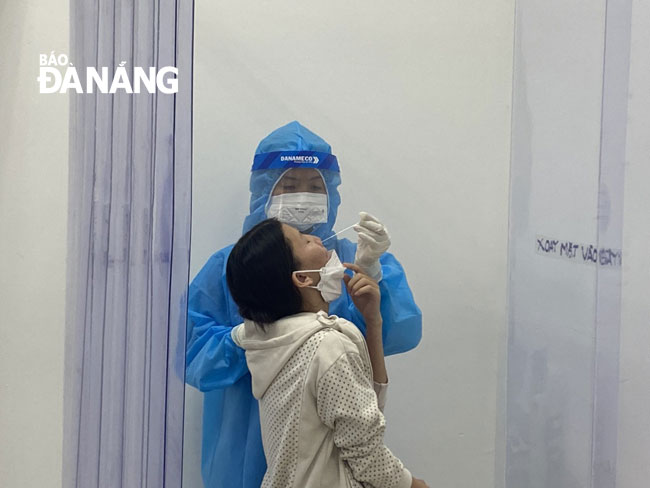 An out-patient has her nasal swab samples taken for COVID-19 testing at the Da Nang General Hospital. Photo: PHAN CHUNG
The licencing for this medical facility helps itself increase COVID-19 testing capacity and join hands with the city's healthcare sector in speeding up the confirmatory testing for SARS-CoV-2 amid the complicated developments of the virus resurgence in the city, said doctor Le Duc Nhan, the hospital's Director.
The hospital has been installed with good-quality equipment for coronavirus testing, including a Realtime PCR machine, a class-II biological safety cabinet and an autoclave sterilizer.
The total 6 staffers who are in charge of conducting COVID-19 confirmatory tests completely meet the prescribed requirements, and all of them have joined the Nha Trang Pasteur Institute-offered courses on SARS-CoV-2 screening techniques.
For the time being, the hospital has a daily capacity of testing 600 samples for COVID-19 and it is expected to increase this figure to 1,200 in the coming time.
Previously, the hospital had been allowed to conduct screening tests for SARS-CoV-2 since September 2020, mainly on patients and their family members upon their arrivals for examinations and treatment. However, when detecting a suspected case of COVID-19, the hospital was required to send the tested samples to the Da Nang Centre for Disease Control (CDC Da Nang) for confirmation though another test conducted here. This, in fact, disrupts diagnostic, screening and exclusion activities because it took time to receive the result of the confirmatory testing from CDC Da Nang.
Reporting by PHAN CHUNG – Translating by A.T
.