Rapid antigen testing for COVID-19 carried out effectively in Da Nang
August 03, 2021, 17:30 [GMT+7]
The Da Nang Department of Health has directed its affiliated units to conduct SARS-CoV-2 rapid antigen testing in parallel with antibody testing by the real-time reverse transcription polymerase chain reaction (RT-PCR) technique in a bid to shortening the time taken to detect positive cases.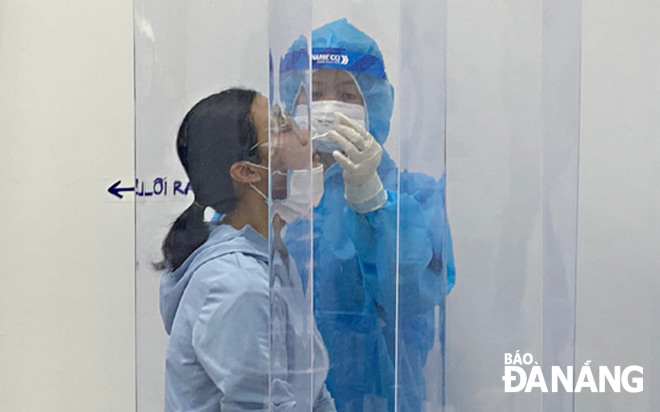 An out-patient undergoes a SARS-CoV-2 rapid antigen test at the Da Nang General Hospital.
For the time being, the Da Nang General Hospital, the largest of its kind in the city, are conducting both the SARS-CoV-2 rapid antigen testing and antibody testing by the RT-PCR technique and
According to Dr. Le Duc Nhan, Director of the Da Nang General Hospital, it is completely reasonable to deploy rapid antigen screening tests for SARS-CoV-2 amid the complicated developments of COVID-19.
"Over the past days, more and more COVID-19 case have appeared in the community, the epidemiological factors related to the patients are very complex. Not to mention, the Delta strain is highly transmissible and the number of asymptomatic patients has also increased. Establishing 'a safety barrier' for hospitals through rapid testing is essential for patients to know their own safety level. Moreover, medical facilities are important areas, which need to be carefully screened and protected against the risk of COVID-19 infection," doctor Nhan said.
Such a rapid antigen test can provide results in 20 - 30 minutes. Meanwhile, the RT-PCR test often returns results within 4 to 6 hours.
Those who are found positive via rapid testing are promptly quarantined and undergone real-time RT-PCR tests for confirmatory results,
The rapid antigen testing had previously been performed by some medical facilities, including the Da Nang General Hospital, but only applied to urgent emergency cases, requiring surgical intervention.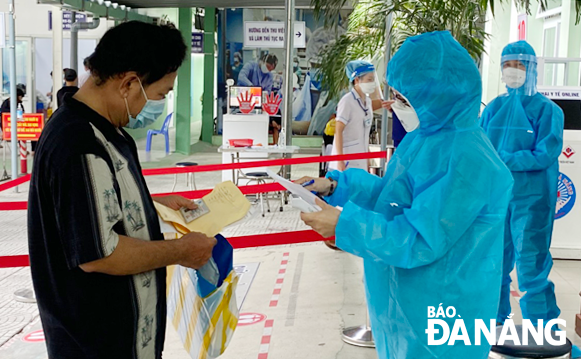 Residents come to the Da Nang General Hospital for checkups.
Doctor Ton That Thanh, Director of the city's Centre for Disease Control (CDC), said that rapid antigen testing for COVID-19 screening not only helps medical facilities determine the risk of SARS-CoV-2 on a large scale but it also actively supports local pandemic prevention and control activities.
Currently, in the process of epidemiological investigation related to COVID-19 patients, the medical force promptly organizes rapid tests on their direct contacts.
"This rapid testing method is very convenient and effective in helping reduce pressure on concentrated quarantine areas, shortens the process and time in epidemiological investigation and treatment, and especially locating at-risk cases as soon as possible," said doctor Thanh.
Currently, the municipal Department of Health is developing a plan to distribute 150,000 antigen rapid test kits to medical facilities across the city to screen for SARS-CoV-2.
Doctor Tran Thanh Thuy, the Deputy Director of the Department of Health, said that the Ministry of Health has guided localities to apply the rapid antigen testing with the aim of proactively detecting infections on a large scale and controlling the virus resurgence in the community and industrial parks.
Medical examination and treatment facilities, medical stations, production and trading establishments, industrial parks and schools will be allowed to conduct rapid testing after obtaining certificates of professional training.
"The Department of Health has requested the Authority of Da Nang Hi-Tech Park and Industrial Zones, the district-level People's Committees to provide a list of medical agencies, units and educational facilities that need training courses on the rapid testing for their employees according to regulations. CDC Da Nang will acting as 'a focal point', actively developing plans on the guidance and training for the aforementioned subjects, proceeding to perform rapid tests with a higher rate and frequency in order to support the city's COVID-19 prevention and control," said doctor Thuy.
Reporting by PHAN CHUNG – Translating by A.T
.