Da Nang Nang Party Chief called for concerted efforts to support worst-affected Son Tra District
August 04, 2021, 16:32 [GMT+7]
Da Nang Party Committee Secretary Nguyen Van Quang on Tuesday afternoon called for concerted efforts from the health agency and relevant units to support Son Tra District, the worst-hit coronavirus area in Da Nang, to tackle surge in cases of the highly infectious Delta variant. Ngu Hanh Son District must take proactive steps to prepare for future COVID-19 primary close contacts from Son Tra District to be put in managed isolation, Mr Quang directed.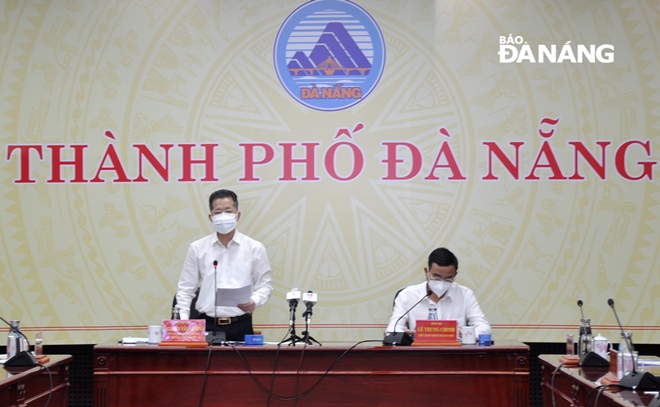 Secretary Quang (left) called for concerted effort to support worst-affected Son Tra Districton on Tuesday afternoon. Photo: LE HUNG
Da Nang faces gravest threat since the COVID-19 crisis as the city on August 3 recorded its highest ever cases at 93 in a single day, Secretary Quang remarked.
The rise in cases prompted the Son Tra District authorities to impose strict local lockdown order in 5 wards on August 3 until further notice.
The city Party Chief asked the Department of Industry and Trade to take action to ensure a secure supply of food and essential items for residents in local lockdown areas.
Mr Quang directed COVID-19 taskforce and district authorities to enhance surveillance of local lockdown areas to make sure that all residents are adhering to the city's new restrictions, especially the 5K recommendations of the Ministry of Health, or face strictest penalties for non-compliance in efforts to prevent and control cross-transmission of COVID-19 in these high-risk settings.
Municipal People's Committee Chairman Le Trung Chinh stressed the need for Son Tra District authorities to educate residents in their local area to adhere to strict health measures and stay-home-order to prevent the spread of the virus.
The city government leader instructed the health agency to quickly roll out COVID-19 testing for residents in local lockdown areas to allow positive cases caught, and ramp up its efforts to track down and isolate all contacts of new cases in a bid to break the chains of transmission.
Mr Chinh demanded the taskforce to take action against those who break the city's social distancing rules and issue harsh punishments to them.
He hoped that the government will work together with authorities at local level and relevant agencies along with local residents with a strong determination to win the fight against COVID-19.
Chairman Chinh also declared the 3 government- accredited organizations that are eligible for issuing travel permits in the context of social distancing in response to COVID-19, namely government agencies, Authority of the Da Nang High-Tech Parks and Industrial Parks, and ward and commune – level authorities.
Reporting by LE HUNG – Translating by H.L
.