Da Nang Youth Union volunteers actively engage in tough fight against COVID-19
August 04, 2021, 11:57 [GMT+7]
In these 'decisive' days fighting against the COVID-19 in Da Nang, hundreds of young volunteers have been active in helping functional forces do contact tracing, take samples for testing, input data and deliver necessities for residents under lockdown with the voluntary spirit and high sense of responsibility and enthusiasm.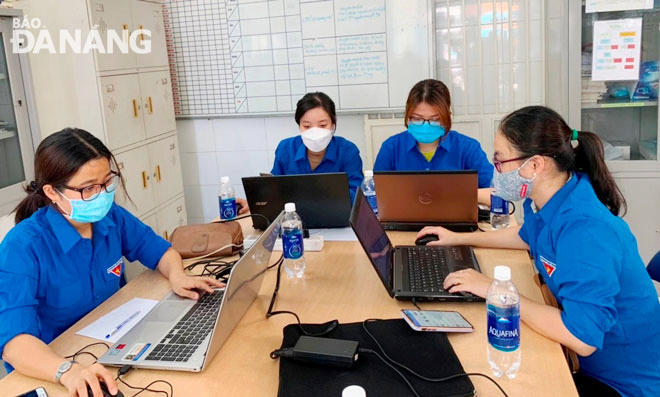 Volunteers of Thac Gian Ward, Thanh Khe District assist medical staff in input the list of COVID-19 tested people.
"Giving all-around and around-the-clock support"
In Hoa An Ward, Cam Le District, more than 50 Youth Union members have registered to be on duty at checkpoints set up in blockaded areas, providing medical support in contact tracing and sampling missions.
According to Ho Van Truong, the Deputy Secretary of Hoa An Ward chapter of the municipal Youth Union, in previous COVID-19 waves, the ward housed just 1 to 2 local checkpoints but till date the figure has climbed to 13 and can be increased sharply in the coming time in light of the complicated developments of COVID-19; so it is necessary to mobilise more volunteers.
In Thanh Khe District, more than 20 Youth union volunteers in Thac Gian Ward are taking part in the pandemic prevention and control missions at all the local checkpoints, whilst 12 others are on course ro fulfil their duties at centralised medical quarantine areas.
According to Trinh Quang Truc Lam, the Secretary of Thac Gian Ward chapter of the municipal Youth Union, the local volunteers assist the medical force in performing urgent tasks, and even in taking swab samples for COVID-19 testing from thousands of people in one day.
"In the past, volunteers received goods and put them on a table at the barricaded checkpoints for quarantined people to pick them up. However, the current situation is complicated so our volunteers must wear protective gears, comply with the COVID-19 preventive measures and deliver necessities to them."
In An Khe Ward, Youth union volunteers quickly bring the 'Portable speaker's sound' back by creeping through village roads and alleys to publicise the safety measures against the virus. At the same time, 20 volunteers from this ward are doing tasks even during odd hours at barricaded checkpoints set up in high-risk residential area.
"The ward covers a large area and a dense population. Therefore, the young volunteers have to work with high intensity, wear tight protective gear under the scorching heat, even suffer from allergy and burning pain. Many of them stand continuously for many hours until being exhausted, but still encourage one another to try their best.", said Secretary of Thac Gian Ward chapter of the municipal Youth Union Do Van Thanh.
In Hoa Khanh Bac Ward, Lien Chieu District, a large number of young volunteers together have jointly supported the medical force at sampling venues and COVID-19 prevention checkpoints, and assisted frontline forces in emergencies on a daily basis. "All supportive activities always ensure the highest rules of COVID-19 prevention and control to ensure the ultimate safety," said the Secretary of Hoa Khanh Bac Ward chapter of the municipal Youth Union Dinh Quang Truong.
"Just go home once our city is free from the virus"
Such volunteers sometimes take advantage of short breaks for relaxation to call their family via Facebook and Zalo. According to Trinh Quang Truc Lam, the Secretary of Thac Gian Ward chapter of the municipal Youth Union, said he missed his wife and children so much. He and others have put aside their messy personal work and tasted life away from their beloved families to adhere to their 24-hour work schedule to support frontline forces in a bid to stop the spread of the virus. He hopes everyone will raise awareness and joins hands with local authorities to make win over COVID-19 so that the city can be safe again soon.

Mr. Do Van Thanh and Dinh Quang Truong have not been home for nearly a week now. Truong said that before joining the frontline forces, he had received great sympathy and encouragement from their families. Currently, he has a nearly 3.5 years-old child and his wife is 7 months pregnant.
"As a youth leader, I must always uphold the spirit of volunteerism without an afraid of hardships and challenges, so that other young volunteers will be motivated and enthusiastically join in the fight against the pandemic. We only go home once the city is free from the virus again," said Dinh Quang Truong.
Reporting by DAN TAM – Translating by T.VY
.